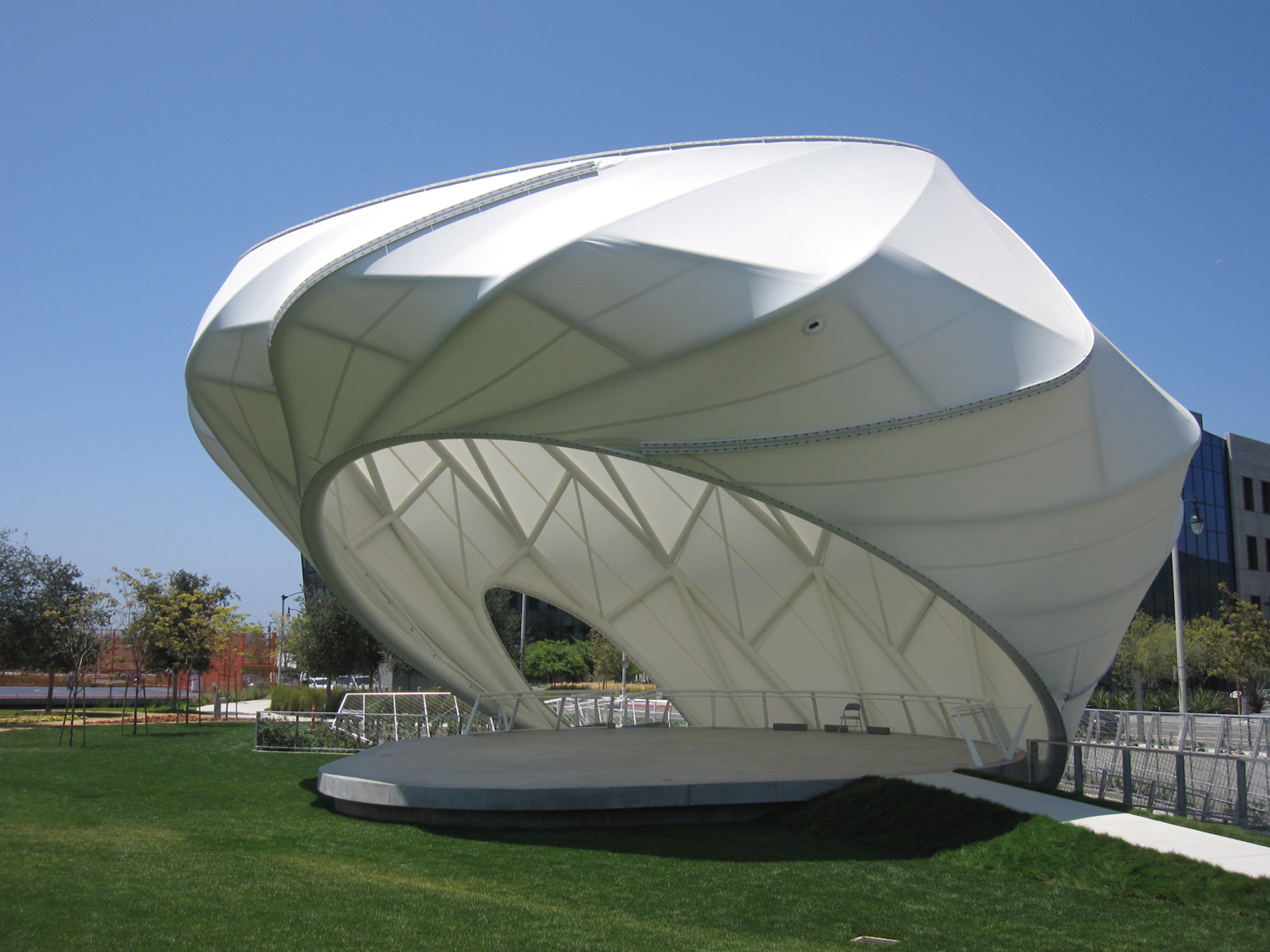 FabriTec Structures, a brand of USA SHADE & Fabric Structures, Inc., was recognized with the 2011 International Achievement Award (IAA) for design excellence in specialty fabrics applications. The ceremony took place at the Industrial Fabrics Association International (IFAI) Expo Americas 2011 at the Baltimore Convention Center in Baltimore, Maryland USA. on October 25th. FabriTec Structures received an Award of Excellence for its Central Park at Playa Vista Bandshell project.
The project, completed in December, 2010 is a 9,200 square foot tensile structure designed to accommodate outdoor performances by musical groups and outdoor presentations. The structure was designed in cooperation with Michael Maltzan of Michael Maltzan Architecture and utilizes Sheerfill V fabric provided by Saint Gobain. The general purpose of the structure is as a performance area in an outdoor park environment. Due to the intricate surrounding landscape, the Architect wanted to design a unique shape and form that could be illuminated at night. Translucency was key.
FabriTec Structures President Claude Centner notes that the project "was one of the most complicated and challenging patterning jobs developed by our design and engineering teams. The complications were compounded by the ever-changing radii of the compound curves and having to create seams that followed the numerous and different meridians. Prior to any of the patterns being completed, the structural frame needed to be assembled off site so that a 3D survey could be developed to determine the exact shape and form. The installation complications came from tensioning each panel into place and minimizing any wrinkling."
The final result was a unique focal point for the park that was completed very much to the client's satisfaction. All participants had an enormous appreciation of the complexities of the design from the structural steel to the membrane patterning and installation. Centner adds, "We are extremely pleased to have won an award for the Playa Vista Park Bandshell as it was one of the most complicated and challenging patterning jobs ever attempted by our design and engineering teams. The Playa Vista Park Bandshell is an outstanding example of FabriTec's superior ability to meet design challenges with innovation and experience."
KEY PROJECT MEMBERS:
ENGINEER: Arup (Company)
DESIGN: Michael Maltzan Architecture/Arup/FabriTec (Company); Michael Maltzan / Steve Neidig (Persons)
ARCHITECT: Michael Maltzan Architecture Inc. (Company); Michael Maltzan (Person)
FABRICATION: FabriTec Structures (Company)
SUBCONTRACTOR: Structural Steel: Plas-Tal (Company)
PROJECT MANAGER: FabriTec Structures (Company); Claude Centner (Person)
INSTALLATION: FabriTec Structures (Company); Deon Kleynhans (Person)
ABOUT FABRITEC STRUCTURES:
FabriTec Structures, a design/build specialty contractor and brand of USA SHADE & Fabric Structures, Inc. (Shade Worldwide), has grown to be recognized as a leading brand in the tensile membrane structure industry. The company offers custom architectural fabric structures for a wide variety of markets including: Airports & Transportation, Retail, Hospitality, Stadiums & Athletic Arenas, Amphitheaters and much more. FabriTec provides imagination and innovation in fabric architecture. Visit http://www.fabritecstructures.com for more information.