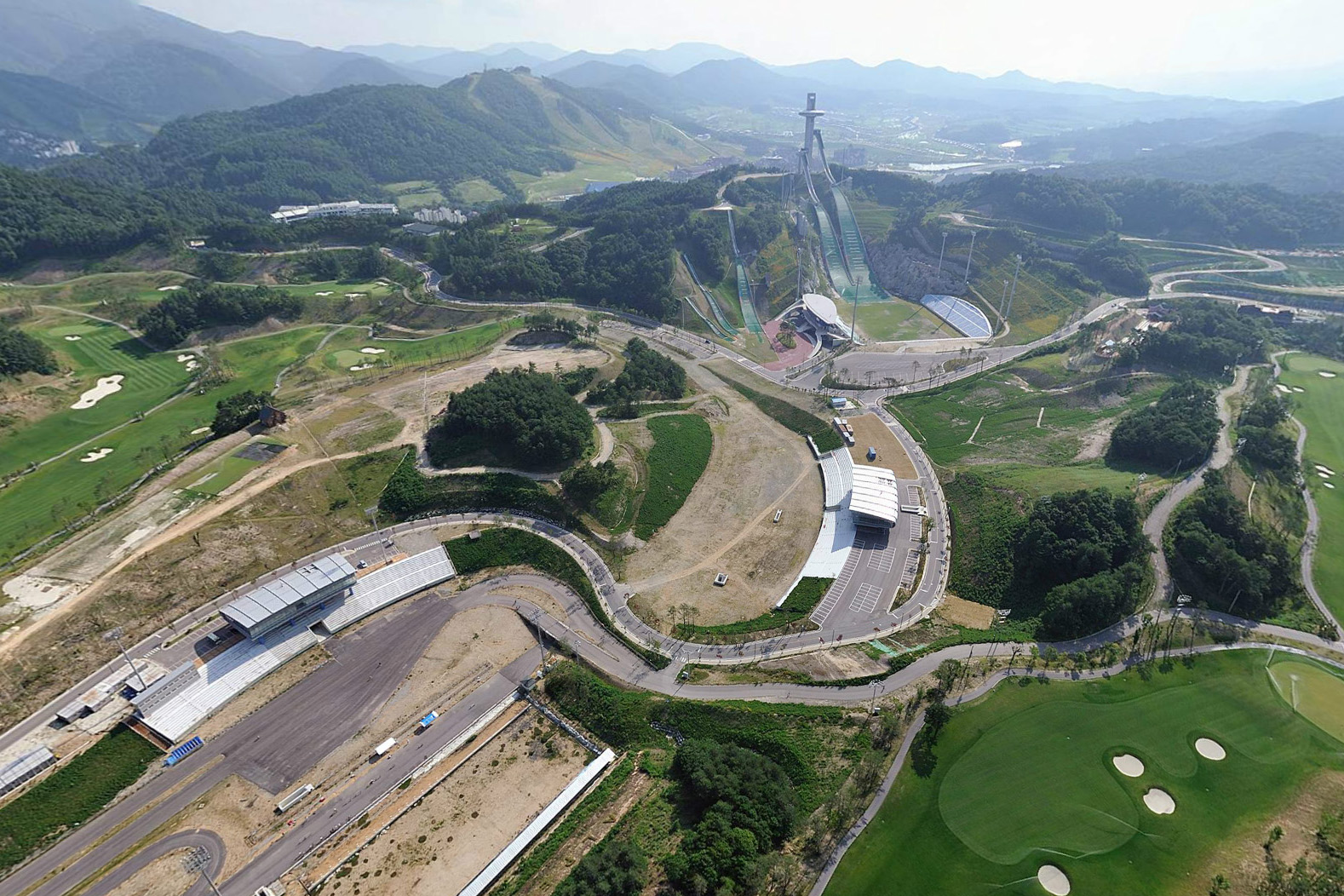 SWA Group, one of the world's leading landscape architecture, planning and urban design firms, is the international planner and landscape architect for the design-build team, led by Taeyoung, that created the facilities at the heart of the PyeongChang 2018 Winter Olympics.

These facilities include the Ski Jumping Stadium where the Opening and Closing Ceremonies will take place, and adjacent Cross Country and Biathlon stadia and courses, all connected by a curving promenade that will make attending the Olympics an exciting people experience with simple transportation logistics.

SWA, in collaboration with Space Group architects of Seoul, pursued an aggressively compact solution that sculpted the K125 and K98 ski jumps with minimal grading, married a Biathlon stadium with a pre-existing Biathlon shooting range, and fit a Cross Country stadium between the two. The separate Biathlon and Cross Country courses, which include dozens of different configurations for the various Biathlon, Cross Country and Nordic Combined events, extend from the stadia into the surrounding countryside. Additional facilities include K60, K35 and K15 practice ski jumps and a three lift recreational ski area. In summer, the most of the land of the Biathlon and Cross Country courses transforms into an 18-hole golf course and the stadia transform into sports fields and courts.

"The master planning was driven by the desire to use a 'light touch' while creating exciting, highest-quality competition venues," said Marco Esposito, a principal who led SWA's team. "To create attractive, high quality facilities while maintaining the natural beauty of this hilly forested site, the design team pursued a compact, walkable development pattern, minimal grading, and extensive reforestation and waterway restoration."

The facilities, originally conceived for PyeongChang's 2014 bid, were subsequently built with support of the national and provincial governments and opened in 2009 to enhance the area's winter sports offerings as well as bolster PyeongChang's 2018 bid. The facilities, known as Alpensia Sports Park, have already hosted the 2009 Biathlon World Championships and the 2011 FIS Ski Jumping Continental Cup.

PyeongChang, located in Gangwon province in the Taebaek Mountains 80 miles east of Seoul, was elected host city of XXIII Olympic Winter Games in the International Olympic Committee's first round of bidding. Korea hosted the 1988 Summer Olympics in Seoul, but this will be Korea's first Winter Olympics. The XXIII Olympic Winter Games will take place February 9-25, 2018.
About SWA Group:
SWA Group is an international landscape architecture, planning and urban design firm. SWA has offices in San Francisco, Sausalito, Los Angeles, Laguna Beach, Dallas, Houston, Shanghai and the United Arab Emirates. Since its inception, SWA has worked in over 60 countries, and its projects have garnered more than 600 awards. For more information, visit www.swagroup.com.