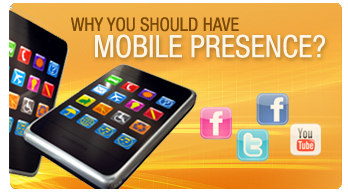 Mobile Website...Why?
As of February 2012, America is home to 313 million people and of 313 million Americans own 327 million mobile phones. This means that the American mobile phone market is as big as the country itself. If this statistic does not answer the question – Why do I need a mobile site? – no other statistic will.
Here are some more facts and figures that will further drive home the point:
1. As per a report published by Forrester Research, American m-commerce will touch $31 billion by 2016. It will grow at a compound rate of 39% from 2012 to 2016.
2. A research conducted by InMobi Holiday Mobile Shopping Study states that 31% of all mobile users check for offers, promotions and discounts in the holiday season. Even if the percentage drops to a third in the off-holiday season, you still get 31 million people tapping their mobiles trying to find discounts! No seller can afford to ignore such a large marketplace and that's a great reason to develop a mobile version of website right away.
3. According to the same study, 36% of mobile phone owners plan to shop online through their mobile.
4. Per a PayPal survey, 60% of all mobile phone owners will shop using their mobile when they are at home. This is a telling blow to conventional online shopping techniques using a PC or a laptop.
5. JiWire says that 53% of physically mobile Americans are willing to trade their location in return for deals. This is great news if you own a physical store – all you have to do is keep announcing deals on your mobile app and hey presto, customers will start marching into your store.
6. Chadwick Martin Bailey has reported that 41% of all smartphone owners have shopped using their mobile. You already know that smartphones are already on us and their users will keep increasing by the day.
7. Lightspeed Research, a market survey company, reports that 56% Americans feel that mobile shopping using mobile phones is more enjoyable.
8. A study conducted by Millennial Media states that 34% of all mobile shopper earn more than $100,000 per year. Plus, the American economy is rebounding and that can only mean more mobile shoppers.
9. ROI Research, Inc., reports that 49% who surf the net at least once a week using their mobile phone, do make online purchases.
These are compelling facts and numbers that should prompt any online business owner to consider creating a mobile version of their website today. To learn more about creating a mobile site for your business visit the link below.