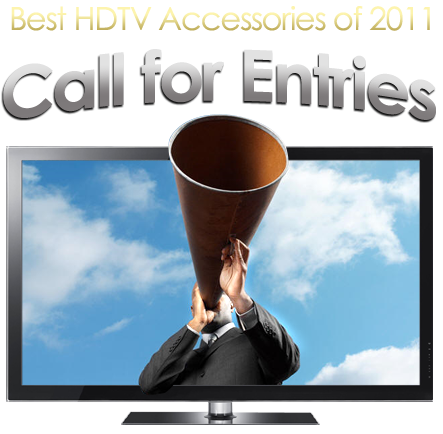 The HDTVGenie.com, featuring the innovative up and coming HDTV Product Finder, has just announced a casting call for the top HDTV accessories of 2011. The contest highlights lesser-known accessories that are valued by the HDTV community. The winning accessories will serve as an ongoing resource for HDTV enthusiasts. The annual homage to all things HDTV-related, features the top accessories across all categories ranging from audio and video accessories to HDTV related furniture, such as special lighting and couches.
Contestants can enter the contest provided they submit an HDTV accessory that:
Is not widely known
Is helpful to members within the HDTV community
Enhances the overall viewing experience
Award recipients will be featured on the site, and will also receive face time on The HDTV Genie online magazine which is slated for release in early 2012.
Contestant entries for the contest will provide an invaluable resource to other members within the HDTV community. The entries will also shine a spotlight on the product manufacturers responsible for producing these exceptional accessories.
"A spokesman for the company Chris Powers said in a recent statement "This is our first annual awards for the best HDTV accessories for the year of 2011 which will feature the top products TV viewers can get their hands on to greatly enhance their HDTV viewing experience. Since the criteria for making the final list is that the product be of the lesser known variety, this will help HDTV owners locate those hidden golden nuggets out there that will maxmize their HDTV viewing experience. It also gives product manufacturers much needed exposure for lesser-known but high quality HDTV add-ons."
Contestants can enter by visiting contest page at http://www.thehdtvgenie.com/blog/call-for-entries-best-hdtv-accessories-of-2011 and submit their entry. Anyone can enter their favorite product whether they be the creator/inventor/manufacturer of the product, an employee of the company that distributes or markets the product, or even a user/fan of the product. Contest runs til mid-January when final awards are posted on the website.
About the HDTVGenie.com
The HDTVGenie.com has simplified the process of finding an HDTV, by taking the "tech" out of technical. The site features an easy-to-use interface that asks consumers a series of short questions and then locates an ideal TV based on their answers.