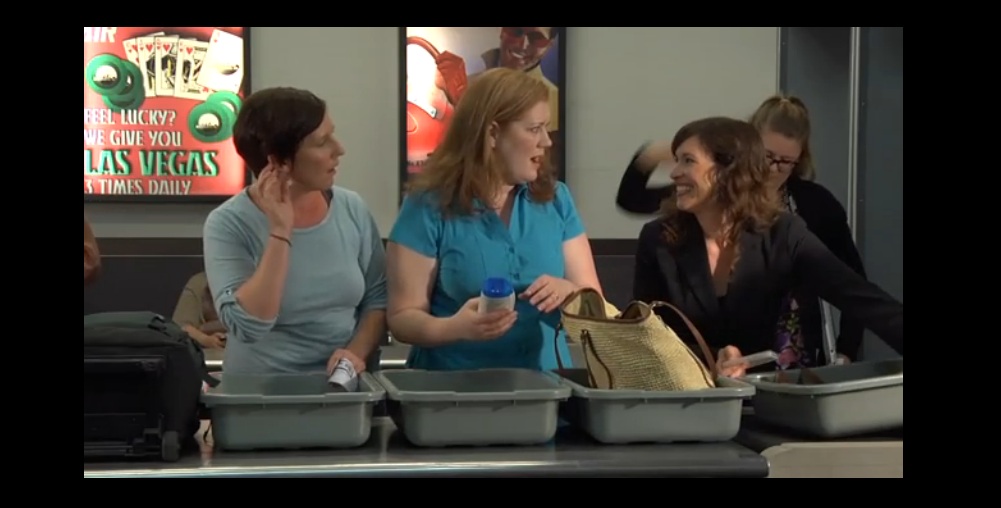 Los Angeles, CA – Just in time for the busiest travel season of the year, actress SONORA CHASE channels our worst travel nightmares in the new comedy webseries, AIRPORT DOUCHERY, launching on YouTube this November 14th followed by FunnyOrDie.com on November 17th.
AIRPORT DOUCHERY, a three part series, follows the super friendly do-gooder, Becky, as she battles the evil forces of Thanksgiving air travel to combat that one person who always tries to cut the line, steal your overhead bin space, and board before their section is called.
Chase was excited to take something so annoyingly universal, like dealing with airport travel, turn it on it head, and make it laughable, "I seem to have a target on my forehead: all assholes collect here and this nice lady won't give you a hard time. After live tweeting my nightmares on planes, they actually added up to a whole TV series. It became a duty: for the love of mankind, how could I not film this?!"
Since venturing out and creating her own work, Chase has also been sharing her experiences over the past year in her successful and informative blog, "Actors Who Self-Produce" (http://www.sonorachase.com/blog/). Her goal is to stimulate other creative professionals to team up and self-produce their own projects has been striking a chord in the creative community, earning her numerous fans and followers. Chase explains, "My life completely changed once I stopped seeking work outside of myself. Plus, I got to act out every fantasy of revenge and justice I could think of and then stuffed all that would fit into three mini-episodes. Suddenly I was on the set of Air Hollywood with an all-female crew shouting out "Action!" and laughing my buns off with other smart, determined women who love to be in charge of stuff."
In addition to her own projects, Chase has been building a solid reputation on both coasts. On the small screen, she worked with veteran comedy director James Burrows portraying 'Betty' on ABC's "Romantically Challenged," then with legendary director Martin Scorsese when she booked a role on the acclaimed HBO series "Boardwalk Empire," and she also appeared on the NBC series "Chuck" written by Alison Adler. Earlier this year, Chase gained more than a few film fans with her role in Erin Greenwell's 2012 Sundance Int'l Film Festival official selection "My Best Day," which also won 'Best Film' at the Portland Women's Film Fest. Chase is a graduate of the famed improv group Upright Citizens' Brigade in New York and holds an M.F.A. in Acting from Brooklyn College.
Up next, Chase is working to bring her solo show "Have You Seen This Girl?", a comedic coming out story wrapped in an adoption mystery, to Los Angeles. She originally developed and work shopped it throughout Off-Off Broadway, which lead to a performance at One Woman Standing, a developmental festival at Emerging Artists Theater.
Sonora Chase is represented by Rogers Orion Agency in Los Angeles.
For further information about SONORA CHASE visit:
www.SonoraChase.com
To Watch "AIRPORT DOUCHERY" on YouTube
beginning November 14th visit:
http://ow.ly/faoAE
###