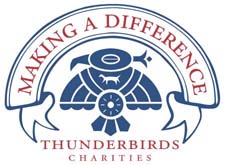 In July 2012, Thunderbirds Charities made Sojourner Center the recipient of a grant for $7,500 to support emergency shelter for survivors of domestic violence. This was only one recent example of the philanthropy's exemplary community service and leadership. Since 2008 the Thunderbirds have contributed $21,000 in grant money to the shelter, and made possible another $11,250 through the "Birdies for Charities" matching program. This is in addition to a 2006 capital campaign donation of $200,000 to help renovate Sojourner Center's Hope Campus.

The Phoenix Thunderbirds were founded in 1937 as the events committee of the Phoenix Chamber of Commerce. One of the first events the committee arranged was the Phoenix Open Golf Tournament at the Phoenix Country Club. Nearly eight decades later, the Phoenix Open is one of the leading stops on the PGA tour. More than that, it is an opportunity for the Thunderbirds to provide support to the community through its philanthropic arm, Thunderbirds Charities.

Funds raised through the Phoenix Open, as well as through direct gifts to Thunderbirds Charities, are dedicated to assisting children and families and helping people in need. That mission has made Thunderbirds Charities a consistent supporter of Sojourner Center for five years, including $7,500 for emergency shelter, and $13,500 to support the shelter's Family Enrichment Program.

In 2008 Sojourner Center was designated as a beneficiary of the "Birdies for Charities" drive. During the Phoenix Open, participants pledge the cash amount of their choosing toward a particular cause, based on how many "birdies" will be scored by PGA Tour players. The inclusion of Sojourner Center brought the shelter $11,250 after the tournament.

In accepting this most recent grant, Sojourner Center Executive Director Connie Phillips noted the shelter and the Thunderbirds share similar missions: "We are dedicated to improving our community by creating safety for women and children who are fleeing domestic violence. That makes us very grateful that the Thunderbirds see that community need, and step forward to help create solutions."

Phillips explained, "With the Thunderbirds' help, women and children at Sojourner Center will receive critically needed shelter and support services. They will be safe, they will have their basic needs met, and they'll have access to programs and support that will help them move forward into lives free from abuse."

Located in Phoenix, Arizona, Sojourner Center is the largest domestic violence shelter in the country. In 2011 the 35-year-old nonprofit provided emergency shelter, support services, and advocacy for nearly 3,000 women and children.