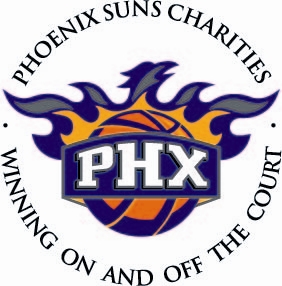 For the eighth consecutive year Phoenix Suns Charities has awarded a grant to Sojourner Center. In August 2012 PSC donated $6,750 to support the domestic violence shelter's Family Enrichment Program. Since 2005 the philanthropic hand of the local NBA franchise has shared more than $50,000 with Sojourner Center to support specialized services for children and families working to overcome the impact of domestic violence in their lives.

The Family Enrichment Program is a perfect fit with Phoenix Suns Charities. Since 1989 PSC has supported organizations that assist the needs of children in Arizona, contributing to the Suns' mission to be a constant leader in improving the quality of life in the community. Thanks to the generosity of Suns fans and sponsors and underwriting by the team, Phoenix Suns Charities distributes more than a million dollars annually to hundreds of worthy Arizona organizations; more than $13 million since the organization was created.

In announcing the grant, PSC Executive Director Robin Milne told Sojourner Center staff, "We applaud your efforts in our community! Together we can make a huge difference in the lives of children and families in Arizona. We are excited to invest in your program and look forward to hearing about the positive results you are able to achieve with these funds."

Connie Phillips, executive director of Sojourner Center, said, "The grants we've received from Phoenix Suns Charities have been vital to our offerings for families. Thanks to them, children and families staying at Sojourner Center will continue to receive the specialized care they need. Last year alone, 350 children were enrolled in the Family Enrichment Program.

"By providing comprehensive, integrated services that support moms in creating safe, nurturing environments for their kids," Phillips explained, "they discover they can overcome the impact of domestic violence in their lives. This gift from Phoenix Suns Charities will offer safety and hope for many families."

Sojourner Center's mission to "overcome the impact of domestic violence one life at a time" dictates that the Family Enrichment Center be more than a daycare facility. It is better described as a place for children and families to grow and heal. In addition to licensed child care, the FEP offers developmentally appropriate activities for domestic violence education, safety planning, self-esteem building, positive peer relationships, problem solving, coping skills, and peaceful conflict resolution.

In conjunction with these services for children, Sojourner Center's family advocates help mothers and their children redefine their concepts of family without an abuser. Support classes and programs include Safety Planning, Mommy and Me, Meeting Family Needs, Building Family Connections, and Personal Empowerment, all with a focus on encouraging families to explore, discover, and grow.

Located in Phoenix, Arizona, Sojourner Center is one of the largest domestic violence shelters in the country. In 2011 the 35-year-old nonprofit provided emergency shelter, support services, and advocacy for nearly 3,000 women and children.