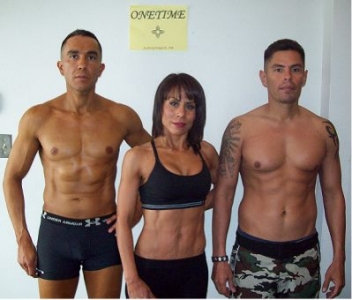 COOPER CITY, FLORIDA – Tuesday, December 27, 2011 – 911 Fitness, aka 911 CrossFit, a leading provider of fitness education, high performance conditioning and programs for 911 responders, announced today that it has been engaged by PROGENEX to sponsor the National 911 Fitness Challenge. PROGENEX will offer 25% discounts to all challenge participants and will give away $2,000 in product to the CrossFit Box who registers the most participants in the 911 Fitness Challenge. PROGENEX is also giving away special gifts for the winning teams of the 911 Fitness Challenge
PROGENEX has quickly established a reputation as the source for the best workout supplements for performance athletes and first responders. 911 Fitness Challenge competitors need high quality nutrition that helps them lose fat and gain muscle simultaneously. PROGENEX has been a big supporter within the Military, Police & Fire communities, so it was a perfect fit to be the official sports nutrition supplement of the 911 Fitness Challenge.
911 teams will weigh in throughout the USA and Canada by 911 Fitness Certified Trainer Heroes available in the USA and Canada. These trainers will measure the body composition of 911 teams both in January and April 2012. PROGENEX will provide nutrition information together with 911 Fitness including weekly webinars featuring topics on fitness, motivation and nutrition. Additionally, 911 Fitness has several fitness center and CrossFit affiliates, nation-wide, to assist with coaching participants, providing overall customer satisfaction with quality trainers and multiple weigh-in locations.

About PROGENEX
PROGENEX is a fitness industry leader for products that accelerate muscle recovery, growth, repair and strength in the body. PROGENEX Recovery and PROGENEX More Muscle harness the most powerful molecules on the planet to fuel a chain reaction that takes elite athletes from amazing to unbeatable. PROGENEX allows athletes to return to their next workout faster and stronger, without feeling like they've worked out.
PROGENEX can be found in every NFL locker room, in the hands of Olympians and with top professional athletes around the world. In fact, nine out of the top 11 CrossFit Games finishers use PROGENEX products. If the fittest in the world trust PROGENEX, shouldn't you? Visit www.progenexusa.com to learn more.

About 911 Fitness Challenge
Since 1998, the 911 Fitness Challenge has been transforming bodies of 911 responders in losing body fat and building muscle. The objective is for teams to lose fat and gain muscle. Winners are determined by their percent of improvement. Teams win $5,000. Two teams will be awarded $5,000, one for the East side of the USA and one for the West.
In addition, the 911 Fitness Challenge registration proceeds support the Shriner's Children's Hospitals. Shriner's provides FREE medical/orthopedic service for children with brain and spinal cord injuries, missing limbs, burn care, and cleft & palate. They provide the best treatment in the world, including surgeries, therapy and equipment - for free. Visit www.911Fitness.com to learn more.