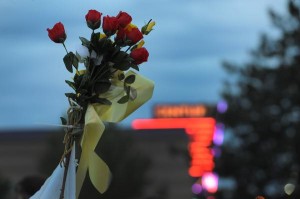 CrossFit Verve
will be hosting a
Memorial WOD
for the victims of the Aurora shooting this Saturday, August 4, 2012. Heats will begin at 10 am and continue through 1 pm.
The event is open to everyone in the community and CrossFit Verve is simply asking particpants to bring their receipt showing a minimum donation of $12 to one of the following charities:
Giving First
or
Jessica Redfield Fund
.
The
Jessica Redfield Fund
is a special scholarship fund established in honor of aspiring sport's journalist, Jessica Redfield. Jessica had recently moved to Colorado and was one of the 12 killed in the tragic shooting on July 20, 2012.
Giving First
is a conglomoration site hosting several different charities designed to benefit the victims and enables participants to donate to the charity of their choice.
The "Workout of the Day" (WOD) is symbolic in nature and features the following :
Seven Rounds for Time of:
12 Thrusters, 75#/55#
9 Toes-to-bar
Run 200m, 20#/14# medicine ball
The seven rounds for time along with the 200 meter run featuring the 20# medicine ball signify the date of the tragic event (July 20th). Whereas the 12 Thrusters and the 9 reps of toes-to-bar represent the 12 innocent victims who were killed inside Theatre 9 of Century Theaters.
Matt Chan
, one of the owners and trainers at CrossFit Verve--and second place athlete at the
2012 CrossFit Games
-- is excited to gather the community in honor of the victims and has designed the workout to be challenging yet doable by all. Individuals will be shown how to scale the exercises to match their fitness level.
PROGENEX,
an athletic performance enhancement supplement company, will also be in attendance providing
Recovery shakes
for participants and will donate a portion of all sales proceeds from the event to the
Jessica Redfield Fund.
CrossFit Verve is conveniently located five minutes from either I-70 or I-25 north of Coors field in north Denver at:
3344 Walnut St
Denver, CO 80205
(720) 238-7783
(map)