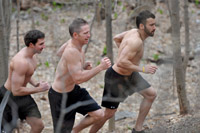 On September 10, 2011 top athletes of both military and civilian backgrounds from around the United States will square off in the first Civilian Military Combine (CMC), a grueling event designed to push teams and individuals to their limits. CMC organizers have developed a military grade obstacle course that covers a seven-mile route traversing the Camelback Mountain Resort in Tannersville, PA. More than just a large-scale obstacle course, the CMC is designed by military personnel to challenge strength and endurance, so each competitor will have to pass through a strength event at the beginning of the course.

Wherever you find athletes competing at the highest levels, you'll find Progenex and the Civilian Military Combine is no exception. Progenex is notorious for its Recovery Product, which enables athletes to recover from the most strenuous workouts. In the last year Progenex has established itself as an elite brand for the most serious of athletes. From NFL athletes to the top CrossFitters Progenex is the go-to product for muscle recovery. Progenex is a proud supporter of the CMC and will be at the event distributing post-race drinks.

About CMC
The Civilian Military Combine is the ultimate 1 day competition, broken down into three components to test strength, endurance and agility. Race day structure will consist of "The PIT," followed by a 7 mile mountain race with 7 strategically placed massive military obstacles. This structure is what separates the Civilian Military Combine from all other races and competitions. The PIT is designed to be the great equalizer by leveling the playing field between power athletes and endurance runners to determine the best overall conditioned athlete. This race structure has been carefully created, refined and reviewed by the top strength and conditioning coaches from the CrossFit community, United States Armed Forces and USA Triathlon Organization Race Directors. A portion of all proceeds will benefit 7 charities of both military and non-military missions.

About Progenex
Progenex products are specifically formulated for men and women who demand peak performance of their bodies and who can't and won't settle for second best. You can recover faster - and stronger - with Progenex Recovery, making it the ideal post-workout supplement for anyone that needs to be at their best. Progenex products are available online at progenexusa.com.