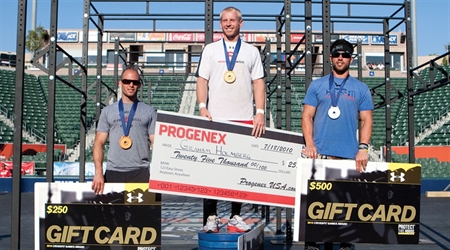 A Little About Us and Our Mission

The supplement industry got its start in the world of bodybuilding, as did Met-RX. As such, so did some of our core group here at PROGENEX. While the rest of the world has moved beyond bodybuilding and the lifestyle that it represents, there are some that clearly have not.

When we started this company, we made the decision to heavily invest in the future - the future of fitness and the future of sports. We jettisoned the past. Internally, not everyone had a positive view of our investment in CrossFit and the CrossFit Games.

The aforementioned lack of agreement, as many of you know, has become a factor in the way we handle our business today. Amidst legal proceedings and dissolved partnerships, we have still thrived. Yes, this has been a subject of occasional drama, at times. But like you, we persevere. There have been changes across the board and change has not been comfortable. One thing that we rely heavily upon is the support from the community that we've slowly but surely become a part of.

We don't operate our business from a sky scraper, make business decisions in board rooms, or contract individuals to show up at competitions. We operate out of an office that is just large enough to support our growing company. We make decisions among fellow CrossFitters at our respective boxes. The people that you see at competitions are the same individuals that own this company. In short, we're all in and we're not going anywhere.

We now sponsor some of the best performing athletes in the CrossFit sport. Some of the most dynamic athletes in the world. At PROGENEX, we take pride in the fact that we have developed a high-end, quality supplement that meets the nutritional demands of the fittest athletes on earth. As a young supplement company, we've seen the high's and the low's of this competitive business - both inside and outside of CrossFit. But despite any adversity, we are always willing to do better.

Chris Spealler, Graham Holmberg, Miranda Oldroyd, Austin Malleolo, and Heather Bergeron were some of the first athletes to experience the positive effects of our Recovery products. Lindsey Smith and Jeremy Thiel are two of the latest athletes to try us out and respond with positive praise after experiencing positive effects. Do you remember Jeremy Thiel, 2008's 3rd Place CrossFit Games finisher? Supplementing with PROGENEX, Thiel won his first regional CrossFit competition after disappointing finishes in 2009 and 2010. With the help of these athletes and other members of the community, we learn how we need to improve; we learn how we can be better. The input helps us to develop the best products while making the necessary adjustments where you see fit.

Working with the CrossFit community, we've found that we may always receive a lukewarm response from the community's Paleo-evangelists and seminar entrepreneurs. We understand that with every lecture, there has to be an ideological antagonist. Often enough, that antagonist is protein supplementation. To Paleo-evangelists, a healthy lifestyle is one free of derived whey products and sugars. But many of CrossFit's top athletes find that their diet of quality whole foods and supplementation with PROGENEX favorably affect their performances. For them, PROGENEX accelerates the recovery time. It helps them Forge Elite Fitness by allowing them to train at peak volume and intensity, day in and day out. We respect opposing product opinions and we will continue to consider them during any current and future product development.

The fact remains that while some in the community take pride in opposing products like PROGENEX, many have reached their goals faster and more effectively with proper, quality supplementation. From the onset, our mission has been to improve CrossFit athletes' ability to recover and we will continue to improve our products' efficacy.

We were taken aback when we saw that Brian MacKenzie, CrossFit Endurance Founder and Stronger Faster Healthier Ambassador, blogged negatively about us and what we were trying to do in support of the community. Much of his information, to no fault of his own, were perpetuated falsehoods rehashed from bodybuilding and steroid blogger, Anthony Roberts Connors. We have the utmost respect for the Leighton Family, Maine Natural Health, and MNH's Sports/Fitness division - Stronger Faster Healthier. And most importantly, we certainly appreciate what they are doing to make an impact on the community that we have been honored to be a part of.

So yes, we will still support and sponsor our athletes. We view CrossFit as an up and coming professional sport and athletes in professional sports are paid to represent the brands that they believe in. We aren't the first supplement company to sponsor the CrossFit Games. And we certainly won't be the last. We were just the first supplement company that the top athletes believed in. We are honored and humbled to be a part of this growing community and growing sport. This honor and humility drives us to be the best.

PROGENEX is here for the long haul. We founded this company to become the highest quality protein supplement producer in the world. What you will quickly learn from us is that we take criticism and we build on it. And we will keep building until we have a supplement that everyone in this community can be proud of. That is our mission and that is the only way a business can survive in a community that settles for nothing less than the best.