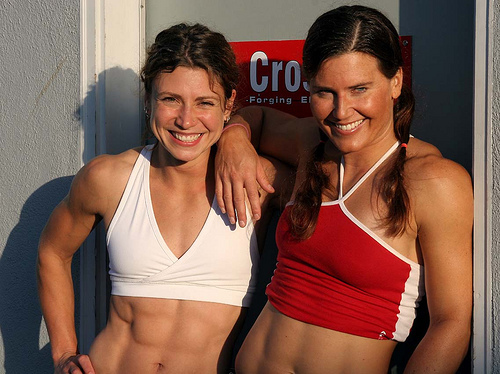 The 2011 CrossFit Games will be more competitive than ever. With a Reebok-sponsored $1,000,000 purse with $250,000 for the winners: training volume, preparation, and focus will continue to increase. The stakes are high for these athletes and the field couldn't be more densely packed than it is for CrossFit's women.

The past year was a dynamic one for women in the CrossFit community. Everywhere you go, inside and outside of the CrossFit community, you hear about Strength and Beauty, Strong is the New Skinny, and other cultural movements dedicated to honoring the ability and beauty of women in CrossFit and beyond. We are in the midst of a pivotal time for women in sports. CrossFit's female athletes are making incredible strides in muscular strength and endurance. It is not uncommon to see 300+ lb. deadlifts, 250+ lb. back squats, and metabolic conditioning on par with the best male athletes of the sport.

In the past year, PROGENEX has proven that our Recovery formula works. And works well. Athletes like: Spealler, Froning, Malleolo, and Holmberg were all able to increase training volume and frequency. However, the improvement in strength and muscular endurance in women has been the most notable. The recovery that the top athletes have reported to us demonstrates that PROGENEX has had a positive effect on their recovery after exertion along any of the energy pathways.

Often times, female athletes don't see the benefit of protein supplementation. One particular CrossFit athlete stands out when discussing this issue. Lindsey Smith, an athlete from CrossFit Central, discussed her former distaste with protein supplements during her time as a three sport D1 level athlete for DePaul University. As a basketball player, soccer captain, and All Big East heptathlete, she did without the benefits of supplementation. She also continued to avoid protein supplementation throughout her career as an elite soccer play in the W-League, then the highest level of international play for women. Due to the intensity and duration of year round CrossFit Games training and her responsibilities as a mother, she needed the benefits of increased muscular recovery through consistent and timely food intake and protein supplementation.

When we interviewed the 2009 and 2010 Games Veteran, she had this to say:

"The CrossFit Games has been the most competitive athletic experience that I've had. My competitors are also some of my closest friends and we keep in touch when it comes to everything from injury to nutrition. Since I've decided to optimize my performance with increased knowledge in the areas of strength training, metabolic conditioning, and conditioning, I've begun to recognize areas in which I'm lacking. Supplementation provides an edge in my quest to compete at my best in the CrossFit Games. PROGENEX has helped me stay focused and meet my nutritional demands while enjoying my time as a mother, wife, teacher, coach, and CrossFit athlete.

Smith was introduced to PROGENEX after positive reviews from CrossFit New England athlete Heather Bergeron and CrossFit 801 athlete Miranda Oldroyd. They are two of several female athletes that advocate for PROGENEX.

She went on to say:

"It seems that women have faced a common fear of protein supplementation. We all assumed that supplementation would make us bulky. Not true! It's not in our DNA to respond in that way to standard servings of whey protein. If anything, supplementation has help me to reduce muscle soreness and improve recovery after workouts. Recovery promotes lean muscle mass and that is a great motivation for anyone woman, especially those that are trying to improve their body composition."

There are a lot of protein supplements out there, some are professing to be the latest, newest, and healthiest. Many of these supplements are marketed solely to men. What CrossFit has demonstrated is that female athletes and their strengths shouldn't be taken for granted. Neither should their supplementation. The average male sports fan has never witnessed a beautiful woman who can exceed his own physical ability. We are living through a period where our economy has drastically recessed, obesity is reigning, and the mood is generally somber. But this has all happened before. And if we know anything, sport can be a great means of inspiration.

Games athletes and hundreds of CrossFitter's around the U.S. have volunteered their testimonials to prove it. PROGENEX is determined to continue supporting the most dynamic athletes in the sport.

Many female athletes have benefitted from PROGENEX Recovery, in the last year, and they'd be the first to discuss their improvements in metabolic conditioning and competition. PROGENEX is proud to be a part of a growing movement of women who graciously pursue the natural limits of their athletic potential. They have become an inspiration to many. Strong is Beautiful.