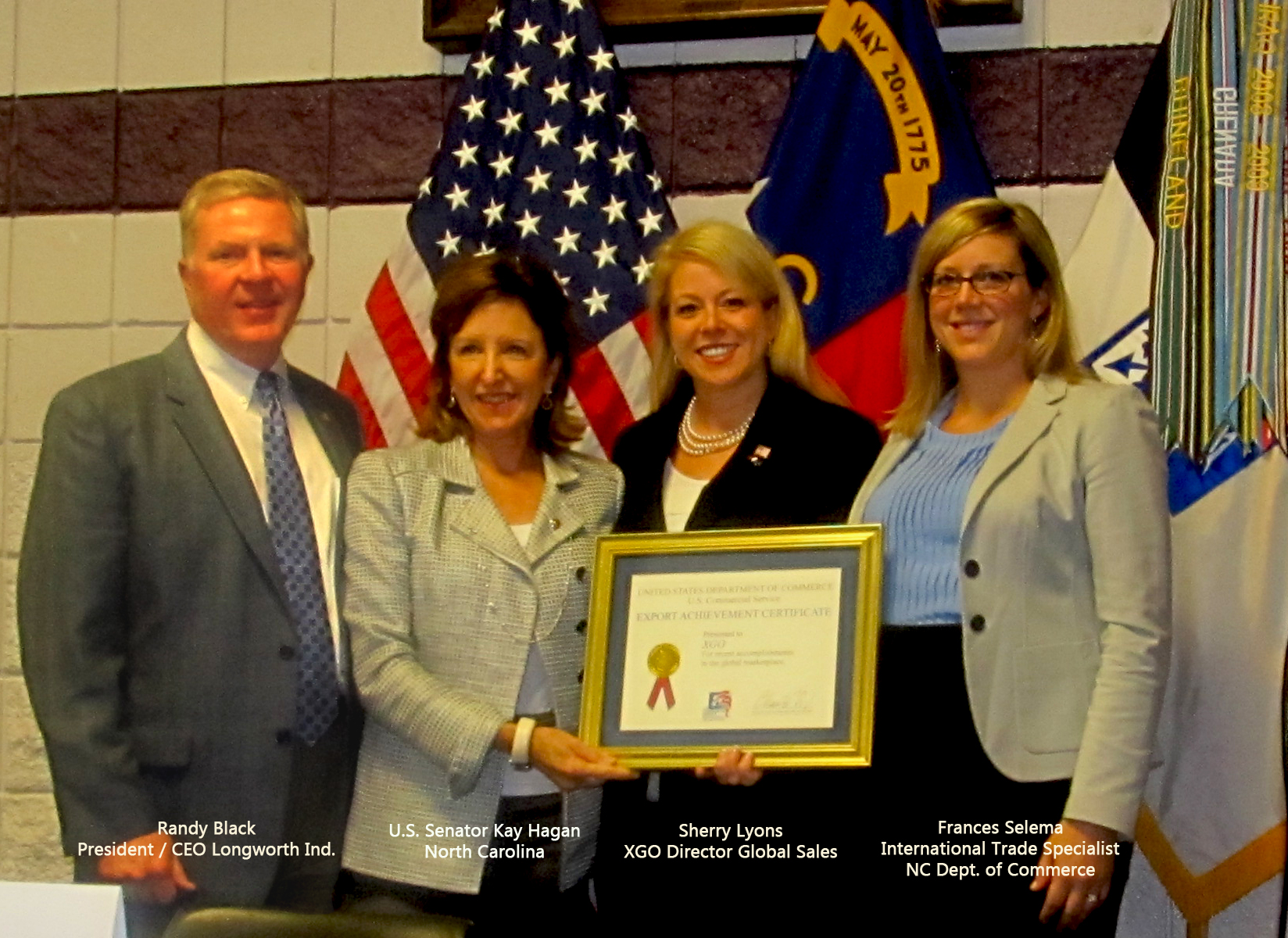 Fayetteville, NC – Longworth Industries' XGO brand of West End, NC, sister brand to Polarmax technical base layers, has been honored with a prestigious award from the Department of Commerce for International Sales.

Presented by Senator Kay Hagan at this year's NC Defense Show, the Export Achievement award is for Longworth Industries' and XGO's long-term commitment to expand export sales and distribution, thereby creating jobs in North Carolina for both Moore and Montgomery County. Being 100% Made in the U.S.A. and Berry Compliant, XGO's international success has already had a positive impact on the local economy.

Randy Black, CEO of Longworth Industries had this to say about XGO's recent international expansion, "we recognized the opportunities for international sales a number of years ago, as we sought grow our business. Our export sales base is driven by our successful expansion of government and military business that we have developed in the USA through our XGO brand and the positive impact that our armed services have made internationally."

During the annual award breakfast, Sherry Lyons, Director of Global Sales accepted the award on behalf of the organization, "from the wonderful employees of Longworth to the 100% Made in the USA/Berry Compliant gear and to the support of our NC Leadership with Senators Hagan and Burr and Congressman Kissell, we are proud to say that the international market is aware that textiles are alive in North Carolina. Our deepest thanks also go to the amazing US military that has continued to support XGO during their missions, we are forever grateful."

Since 2009, XGO has participated in many international events ranging from Milipol in Paris, France to a Made in the USA show in Qatar.

Longworth Industries' XGO brand is a vertically integrated manufacturer of high-performance, moisture wicking, anti-microbial next-to-skin garments and accessories in flame retardant and non FR categories. XGO products are manufactured exclusively in the United States and distributed to select domestic and global markets.