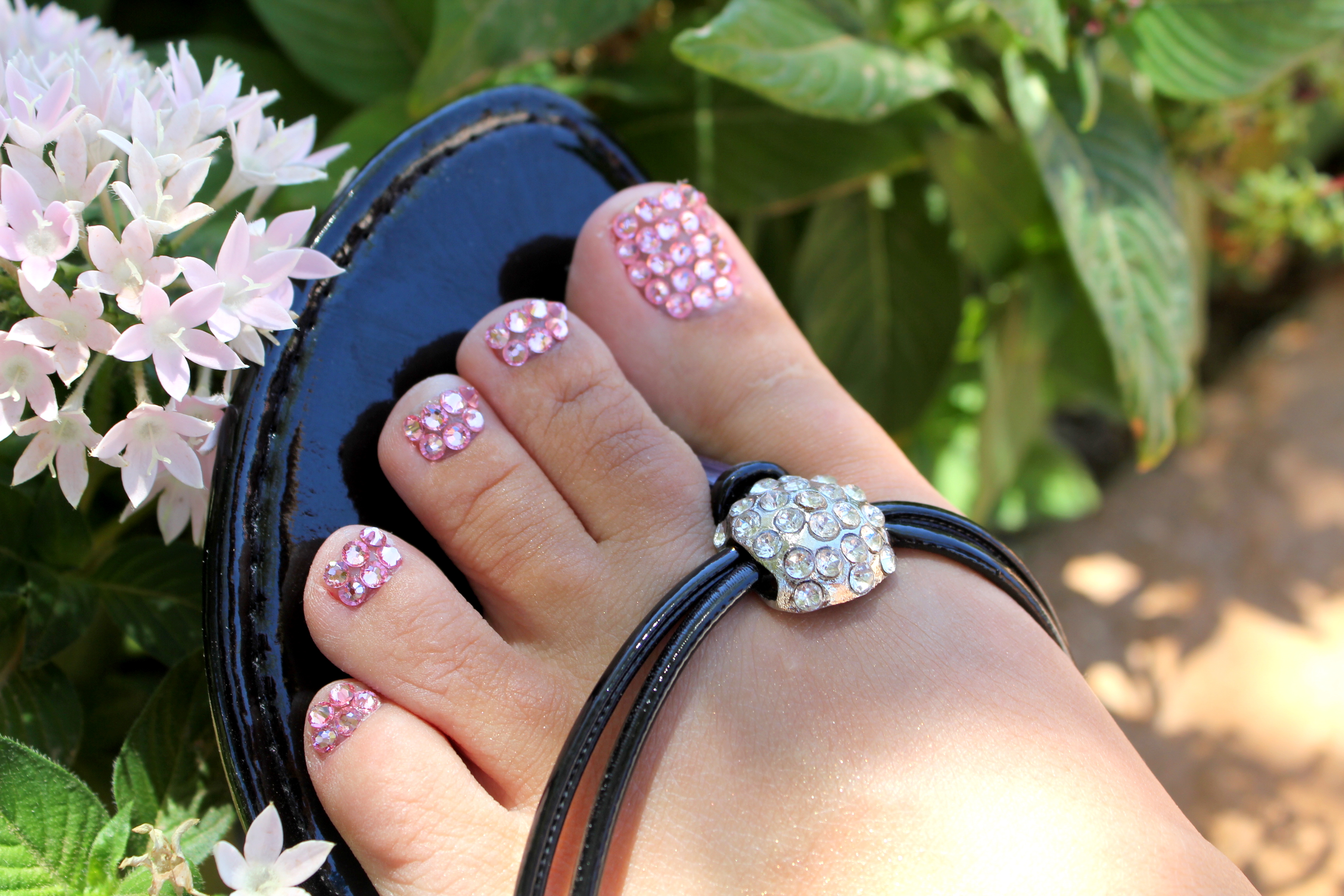 PHOENIX, Ariz. - Just in time for sandal season, Tocaloma Spa located at Pointe Hilton Tapatio Cliffs Resort reveals a new toe dazzle service with Swarovski crystals. For only $49 spa guests can have their toes glamorized with a service that utilizes stunning Swarovski crystals instead of nail polish.

The service was inspired by a growing trend of embellished nails as seen throughout Hollywood. Tocaloma Spa has an array of beautiful Swarovski crystals to choose from in a variety of colors, including champagne, black, white, pink and purple. The glittering Swarovski crystals last up to three weeks and several extra crystals for at home touch-ups are provided. The Swarovski crystal service is a fabulous way to add some sparkle to one's step while being pampered at the spa.

Tacoloma Spa is located on the picturesque mountain preserve grounds of the AAA Four-Diamond award-winning Pointe Hilton Tapatio Cliffs Resort. Tocaloma also offers signature treatments such as the Sedona mud body mask, aromatherapy massage or the serenity pedicure. In addition to the intimate spa, guests of Pointe Hilton Tapatio Cliffs will enjoy sparkling pools, renowned restaurants and unparalleled views of the Phoenix area.

To make an appointment at Tocaloma Spa, please call 602.375.4645 extension 7085 or visit, www.tocalomaspa.com.

-###-

About Pointe Hilton Tapatio Cliffs Resort
Pointe Hilton Tapatio Cliffs Resort is a Spanish-Mediterranean-designed, all-suite mountainside resort located in the granite bluffs of the Phoenix Mountain Reserve. Because Phoenix has the advantage of more than 300 days of sunshine per year, guests are able to enjoy the Pointe Hilton Tapatio Cliffs Resort's acres of refreshing pools and championship golf year round. The resort is rich with Phoenix history and known for its dramatic mountainside setting, dedicated staff and community involvement. With award-winning golf, acres of swimming pools, extensive conference space and a variety of restaurants, the Pointe Hilton Tapatio Cliffs Resort offers the perfect location for business or rest and relaxation. For additional information on Pointe Hilton Tapatio Cliffs Resort, please visit www.pointehiltontapatiocliffs.com or call 1-800-947-9784.

About Hilton Hotels & Resorts
One of the most recognized names in the industry, Hilton Hotels & Resorts stands as the stylish, forward thinking global leader in hospitality. From inaugural balls and Hollywood award galas to business events and days to remember, Hilton is where the world makes history, closes the deal, toasts special occasions and gets away from it all. The flagship brand of Hilton Worldwide continues to build upon its legacy of innovation by developing products and services to meet the needs of tomorrow's savvy global travelers while more than 144,000 Team Members shape experiences in which every guest feels cared for, valued and respected. Today, the Hilton Hotels & Resorts portfolio includes more than 540 hotels in 78 countries and the brand remains synonymous with "hotel." Access the latest Hilton news at www.hiltonglobalmediacenter.com or begin your journey at www.hilton.com. Social media users can engage with Hilton at www.twitter.com/hiltononline, www.facebook.com/hilton and www.youtube.com/hilton. Hilton Hotels & Resorts is one of Hilton Worldwide's ten market-leading brands.

About Hilton Worldwide
Hilton Worldwide is the leading global hospitality company, spanning the lodging sector from luxurious full-service hotels and resorts to extended-stay suites and mid-priced hotels. For 92 years, Hilton Worldwide has been offering business and leisure travelers the finest in accommodations, service, amenities and value. The company is dedicated to continuing its tradition of providing exceptional guest experiences across its global brands. Its brands are comprised of more than 3,750 hotels and 615,000 rooms in 84 countries and include Waldorf Astoria Hotels & Resorts, Conrad Hotels & Resorts, Hilton Hotels & Resorts, DoubleTree by Hilton, Embassy Suites Hotels, Hilton Garden Inn, Hampton Hotels, Homewood Suites by Hilton, Home2 Suites by Hilton and Hilton Grand Vacations. The company also manages the world-class guest reward program Hilton HHonorsr. For more information about the company, visit www.hiltonworldwide.com.