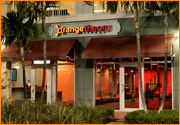 Orangetheory Fitness (
www.orangetheoryfitness.com
), the energizing group interval fitness concept that is sweeping the nation, will open its newest location on June 4 in North Ft. Lauderdale. Grand opening festivities include fun, food and giveaways, as well as the kick-off to Orangetheory's "6 Week Weight Loss Challenge." The participant with the highest percent of weight loss will walk away with $2,500.
"The Weight Loss Challenge is the perfect way to experience the results of the Orangetheory workout. Who wouldn't want to try the newest and most effective 60-minute workout, get toned, lose inches and gain energy - with the opportunity to win a cash prize! The success of our program speaks for itself when you see our contestants and members, but the Challenge has become a celebrated part of opening our new studio locations," said Ellen Latham, fitness expert and creator of the Orangetheory workout.
Participants in the Weight Loss Challenge attend four 60-minute
Orangetheory Fitness
classes per week and eat a balanced meal plan set by an Orangetheory Food Coach. The goal is to show the greatest improvement over six weeks, measured by percentage of weight loss. The first 50 contestants will receive their first month of classes free at Orangetheory Fitness; participation is limited. Past winners have lost as much as 48 pounds in six weeks.
A workout like no other
By design, the Orangetheory workout uses heart-rate-monitored interval training and short bursts of exercise to maximize the Orange Effect - which adds extra caloric burn for up to 36 hours after the workout. Participants burn an average of 900 calories per 60-minute class, hailed by the New York Times as an effective new plateau-busting workout.
The new
North Ft. Lauderdale Orangetheory Fitness studio
, located at 1759 East Commercial Blvd., is owned by Dr. James Milne. "The day I took my first Orangetheory class, I was reminded of my team sports days, and the motivation you get from doing things as a group. That's what really turned me on to Orangetheory and eventually to opening a franchise," said Dr. Milne, who previously took classes at a studio he says was "a little out of my geographical morning zone." He selected North Ft. Lauderdale for a franchise location so that others in his area could enjoy and benefit from the Orangetheory experience. Dr. Milne is a Ft. Lauderdale physician specializing in mental health and addiction.
For more information about Orangetheory Fitness or participating in the Weight Loss Challenge, call the Ft. Lauderdale studio directly at 954.229.9800 or visit
www.orangetheoryfitness.com
, select "Studio Locations," and "View Studio" for North Ft. Lauderdale. Limited spots are available for the Challenge.
About Orangetheory Fitness
Orangetheory Fitness (
www.orangetheoryfitness.com
) is a one-of-a-kind, group personal training workout broken into intervals of cardiovascular and strength training. Backed by the science of excess post-exercise oxygen consumption (EPOC), Orangetheory's heart-rate monitored training is designed to keep heart rates in a target zone that stimulates metabolism and increases energy. Lead by skilled instructors, participants use a variety of equipment including treadmills, rowing machines, TRX Suspension Trainingr and free weights, burning an average of 900 calories per class. The result is the Orange Effect -more energy, visible toning and extra calorie burn for up to 36 hours post-workout.