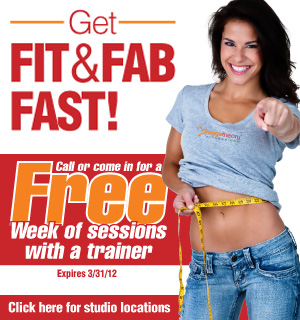 Orangetheory Fitness
, the energizing heart-rate-monitored interval fitness concept that is sweeping the nation, is making it easier to try the nation's best one-hour workout this month. In its March campaign "Get Fit & Fab Fast," Orangetheory Fitness invites anyone who has not experienced the workout to try a free week of sessions with a trainer.
"At Orangetheory Fitness, our exclusive heart rate-monitored small group training makes your fitness experience really unique. People of all skill levels are challenged, because you exercise according to your personal heart rate zones. By design, participants burn maximum calories during and after the workout – for up to 36 hours. Although people are often hooked after experiencing their first Orangetheory Fitness session, which is always free… we're sweetening the invitation in March by offering an entire week of free sessions with a trainer," said Ellen Latham, fitness expert and creator of the Orangetheory Fitness workout.
The Orangetheory Fitness workout uses heart-rate-monitored interval training and short bursts of exercise to maximize the Orange Effect – which adds extra caloric burn for up to 36 hours after the workout. Participants burn an average of 900 calories per 60-minute class, hailed by the New York Times as an effective new plateau-busting workout. Four 10 to 30-minute intervals are completed throughout the hour, using treadmills, free weights, TRX Suspension Training®, and rowing machines. Orangetheory Fitness is affordable small group training, with a variety of membership plans and session packages available.
About Orangetheory Fitness
Orangetheory Fitness (
www.orangetheoryfitness.com
) is a one-of-a-kind, group personal training workout broken into intervals of cardiovascular and strength training. Backed by the science of excess post-exercise oxygen consumption (EPOC), Orangetheory's heart-rate monitored training is designed to keep heart rates in a target zone that stimulates metabolism and increases energy. Led by skilled personal trainers, participants use a variety of equipment including treadmills, rowing machines, TRX Suspension Training® and free weights, burning an average of 900 calories per session. The result is the Orange Effect –more energy, visible toning and extra calorie burn for up to 36 hours post-workout.