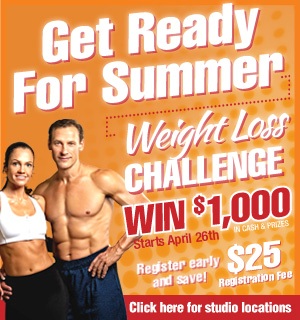 Orangetheory Fitness (
www.orangetheoryfitness.com
), the energizing group interval fitness concept that is sweeping the nation, is now accepting contestants for its next 6 Week Weight Loss Challenge, kicking off in studios across the country on April 26. At the end of the challenge, the contestant with the highest percentage of weight loss from each studio will win cash and prizes valued at $1,000. Participating studios in Florida include Ft. Lauderdale, North Ft. Lauderdale, Lighthouse Point, Pembroke Pines, Royal Palm Beach, New Tampa, St. Petersburg and Weston.
"This spring challenge is the perfect motivation for getting toned or shedding pounds before summer. And the timing is always right for people making a commitment to be more fit and healthy. At Orangetheory Fitness, we can promise you'll see results and have fun working for them. The workout is based on your individual heart rate…you get the benefit of a group dynamic, motivation from a personal trainer and variety in every session. We can't wait to see the results from our next round of contestants," said Ellen Latham, fitness expert and creator of the Orangetheory workout.
Participants in the 6-Week Weight Loss Challenge attend three 60-minute
Orangetheory Fitness
sessions per week and maintain a healthy diet. Tracking food intake is an important key to achieving weight loss goals, and Orangetheory Fitness works with contestants to keep a weekly food log throughout the Challenge. The goal is to show the greatest improvement over the course of the contest, measured by percentage of weight loss.
By design, the Orangetheory workout uses heart-rate-monitored interval training and short bursts of exercise to maximize the Orange Effect – which adds extra caloric burn for up to 36 hours after the workout. Participants burn an average of 900 calories per 60-minute class, hailed by the New York Times as an effective new plateau-busting workout.
Orangetheory Fitness typically hosts a 6 Week Challenge each time a new studio opens, and other shorter contest throughout the year. Past winners have lost as much as 48 pounds in six weeks. The final weigh-in for the spring Challenge will be held in early June. For more information about the Weight Loss Challenge or to register, call your local studio in Florida, Arizona, Colorado, Minnesota or New York. Details are also available at
www.orangetheoryfitness.com
. Limited spots are available for the Challenge.
About Orangetheory Fitness
Orangetheory Fitness (
www.orangetheoryfitness.com
) is a one-of-a-kind, group personal training workout broken into intervals of cardiovascular and strength training. Backed by the science of excess post-exercise oxygen consumption (EPOC), Orangetheory's heart-rate monitored training is designed to keep heart rates in a target zone that stimulates metabolism and increases energy. Led by skilled personal trainers, participants use a variety of equipment including treadmills, rowing machines, TRX Suspension Training® and free weights, burning an average of 900 calories per session. The result is the Orange Effect –more energy, visible toning and extra calorie burn for up to 36 hours post-workout.