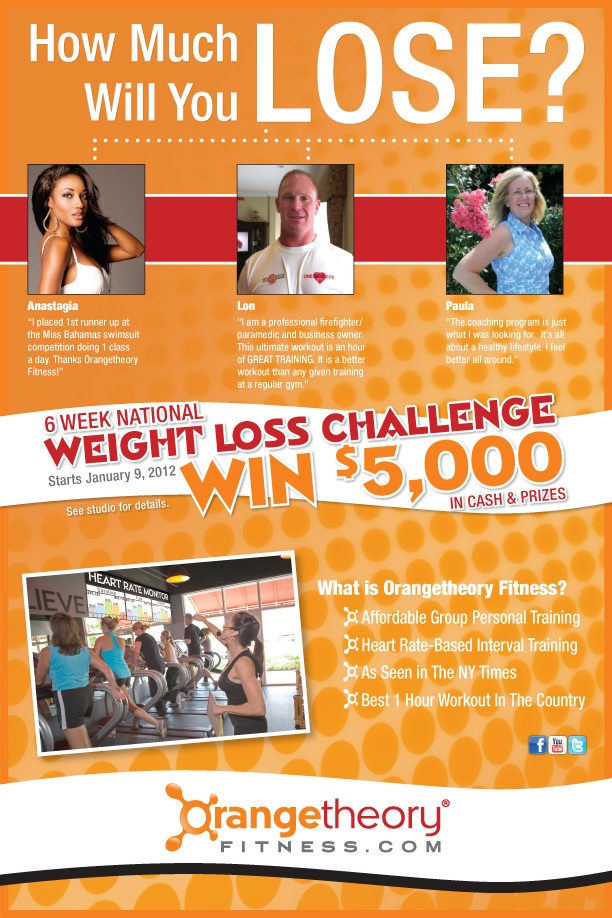 Orangetheory Fitness National Weight Loss Challenge kicks off January 9th.

Orangetheory Fitness National Weight Loss Challenge kicks off January 9th.
Orangetheory Fitness
(www.orangetheoryfitness.com), the energizing group interval fitness concept that is sweeping the nation, will launch its first 6 Week National Weight Loss Challenge on January 9. At the end of the challenge, the contestant with the highest percentage of weight loss will win $5,000 in cash and prizes. Participating studios in Florida include Ft. Lauderdale, North Ft. Lauderdale, Pembroke Pines, Weston, Royal Palm Beach, New Tampa and St. Petersburg.
"What better way to kick off 2012 than to have contestants in all of our studios nationwide taking our 6 Week Challenge at the same time, working toward the same goal for our biggest prize yet!" said Ellen Latham, fitness expert and creator of the Orangetheory workout. "It's all about the results. Orangetheory Fitness is not your typical workout. It is the most effective 60 minutes you can spend exercising, and your body will show it. With our Challenge going national, the pounds and inches lost, strength gained, and overall energy is sure to be amazing."


Orangetheory Fitness typically hosts a 6 Week Challenge each time a new studio opens, and other shorter contest throughout the year. Past winners have lost as much as 48 pounds in six weeks. In its first national challenge, Orangetheory Fitness will name two local winners at each studio – one male, one female – and one national winner will be selected based on best results overall. Twenty-four winners in all will be awarded cash and prizes at the close of the challenge in February. The final weigh-in is on Feb. 19, with each studio hosting a party to announce their winners on Feb. 23.


Participants in the Weight Loss Challenge attend a minimum of three 60-minute
Orangetheory Fitness
sessions per week and maintain a healthy diet. Tracking food intake is an important key to achieving weight loss goals and Orangetheory will work with you to keep a weekly food log throughout the 6-week challenge. The goal is to show the greatest improvement over six weeks, measured by percentage of weight loss.
By design, the Orangetheory workout uses heart-rate-monitored interval training and short bursts of exercise to maximize the Orange Effect – which adds extra caloric burn for up to 36 hours after the workout. Participants burn an average of 900 calories per 60-minute class, hailed by the New York Times as an effective new plateau-busting workout.


For more information about Orangetheory Fitness or participating in the 6 Week National Weight Loss Challenge, call your local studio in Florida, Arizona or Minnesota. Complete information is available at
www.orangetheoryfitness.com
. Limited spots are available for the Challenge.
About Orangetheory Fitness
Orangetheory Fitness (
www.orangetheoryfitness.com
) is a one-of-a-kind, group personal training workout broken into intervals of cardiovascular and strength training. Backed by the science of excess post-exercise oxygen consumption (EPOC), Orangetheory's heart-rate monitored training is designed to keep heart rates in a target zone that stimulates metabolism and increases energy. Led by skilled personal trainers, participants use a variety of equipment including treadmills, rowing machines, TRX Suspension Training® and free weights, burning an average of 900 calories per session. The result is the Orange Effect –more energy, visible toning and extra calorie burn for up to 36 hours post-workout.