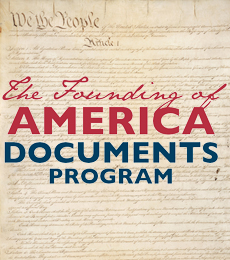 COLUMBUS—On March 30, 2012, the Ohio General Assembly passed Senate Bill 165, which requires teaching founding documents of American in their original context. In response to this legislative directive, the Ohio Historical Society is pleased to announce
the Founding of America Documents Program,
a series of activities and programs to help educators fulfill the requirements of the new legislation. The Ohio Historical Society will hold
a formal announcement for interested parties and media on December 4, 2012 at noon at the Ohio History Center
(800 E. 17th Ave, 43211).
Ohio's new Learning Standards in Social Studies,
Senate Bill 165
—the Founding of America Documents Bill—requires educators to teach founding documents of America in their original context, including the Declaration of Independence, the Northwest Ordinance, the United State Constitution (including the Bill of Rights), and the Ohio Constitution. Students will encounter these documents in social studies classes in grades 4 and 8 and in high school history and government classes.
"We are able to provide teachers with all the tools they need to teach the founding documents," said Megan Wood, Visitor Experience manager for the Ohio Historical Society. "OHS is uniquely positioned to provide support to Ohio teachers when it comes to analyzing and implementing primary sources in the classroom." With a grant from the Martha Holden Jennings Foundation, the Ohio Historical Society began developing the Founding American Documents Program almost immediately after Governor Kasich signed the bill into law on March 30.
"This legislation has provided a great opportunity to get students studying these documents as primary sources for American and Ohio history," said Mark Butler, project coordinator for the Ohio Historical Society. "We are excited to be a support for teachers implementing these changes to the social studies curriculum."
Starting in January 2013, when the program officially launches, teachers will be able to take advantage of the following activities:
•
Teacher Professional Development Webinars
provide educator with ways to teach the founding documents in their original contexts.
•
New chapters in Ohio as America, an e-textbook
, offer lessons, activities, videos, and more related to the founding documents. The chapters on the founding documents will be free for teachers and students through June 2014. To learn more about subscribing to the e-text book, Betsy Hedler at ohioasamerica@ohiohistory.org or 614.297.2538.
•
History-to-Go Van Program
brings the experience of the founding documents to schools.
•
Distance Learning Programs and Quiz Shows
beam a game show directly into classrooms and reinforce founding documents content in an exciting format.
•
Field Trip Programs at the Ohio History Center
immerse students in a full day devoted to the founding documents.
For more information about the Founding of America Documents Program visit,
foundingdocs.org
.
At the official announcement on Tuesday, December 4, guests will be able to see demonstrations on all parts of the Founding of America Documents Program and hear from those who will lead the program. This event is open to the public and media; light refreshments will be provided. For information about the December 4th announcement, contact Jane Mason at 614.297.2312 or jmason@ohiohistory.org.
ABOUT OHIO AS AMERICA
Ohio as America is an online textbook with teaching tools that bring Ohio's history to life with videos, interactive maps, sounds, online resources, and in-depth content developed by the Ohio Historical Society. Created for 4th and 8th grade history teachers, Ohio as America provides an accurate, up-to-date study of Ohio's past in the most exciting format available. Aligned to the Revised Ohio Academic Content Standards in social studies, the 8th grade edition highlights Ohio's role within the American story, such as the War of 1812, Westward Expansion, the Abolition Movement, and the Civil War. The online textbooks are available for a subscription charge. Learn more about Ohio as America at http://www.ohioasamerica.org/.
ABOUT THE OHIO HISTORICAL SOCIETY
Founded in 1885, the non-profit Ohio Historical Society provides a wide array of statewide services and programs related to collecting, preserving and interpreting Ohio's history, archeology and natural history. The Society has about 1.6 million items in its collections throughout its 50+ sites and museums and within its 283,000-square-feet Ohio History Center at 800 E 17th Ave. (Exit 111 off Highway I-71), Columbus, Ohio, 43211. The Society receives a portion of its funding from the state, but relies on admission fees, memberships, grants, donations and other forms of revenue to continue to serve Ohioans in the future. For information regarding the Society, contact Jane M. Mason, Director of Communications, Ohio Historical Society: 614.297.2312, jmason@ohiohistory.org.
###