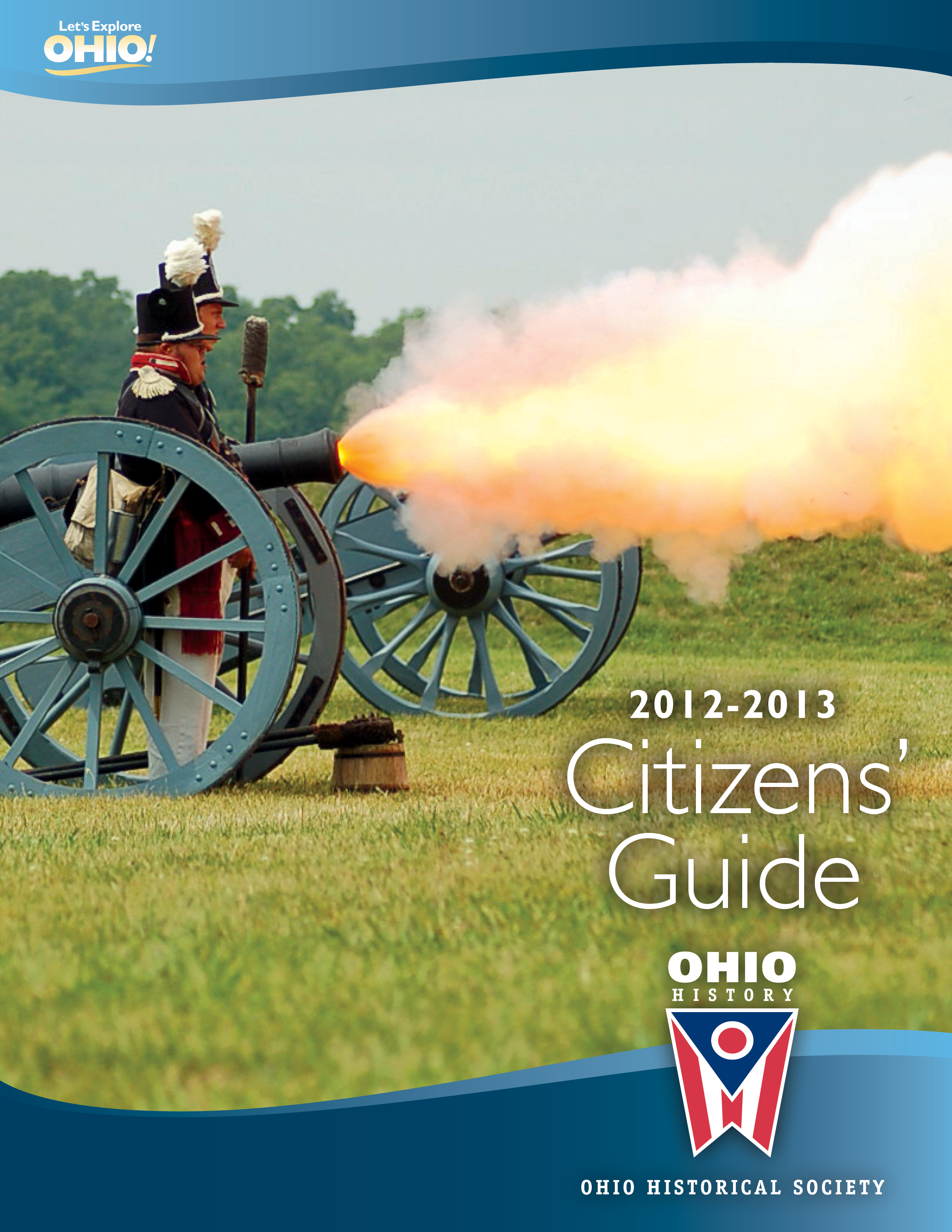 Columbus, OH—The Ohio History Society's
2012-2013 Citizen's Guide
is now available for download or to order at no cost. The Citizen's Guide highlights the scope and impact of the Society. It introduces a selection of programs, functions, events, and activities that the Society sponsors, administers, participates in, or serves as in an advocacy capacity. The 24-page color
Guide
also summarizes the structure, funding and leadership of the Society.
"We have many stories to tell about the impact of the Society," said Jane M. Mason, Director of Marketing and Communication for the Ohio Historical Society. "The Citizens Guide frames the scope and impact of the work in an easily readable publication. We hope it helps Ohioan's understand what happens in that big cube building by the state fairgrounds in Columbus. For example, a few things people might not know is that the
Historical Markers program
across the state is managed through the Society, or that the
Ohio Village
is part of the Society, or that there are 57 other historic sites across the state that are in the Society's network and administered by the Society, or that the
state archives
is on the third floor of the building and is open to the public. There is so much more, but the
Guide
helps start the conversation to let people know how much great work the Society is involved in across the state."
The
2012-2013 Citizen's Guide
also showcases Ohio as America, the new web-based textbook created by the Society and designed for 4th grade social study instruction. The Society launched the textbook and curriculum in 2011 and by the end of the academic year, about 40,000 Ohio students were using
Ohio As America
in the classroom.
People interested in knowing more may request a free copy of the
Citizen's Guide
by contacting
Communications@ohiohistory.org,
Or it is available for free download at:
http://ohsweb.ohiohistory.org/portal/citizensguide.shtml
The
Citizen's Guide
serves as a companion piece to the
Annual Report
. The
Annual Report
is published in late August. It summarizes the results and financial data for the fiscal year just ended. The Society's
Annual Reports
are also available on the website:
ohiohistory.org.
ABOUT THE OHIO HISTORICAL SOCIETY AND THE OHIO HISTORY CENTER
Founded in 1885, the non-profit Ohio Historical Society provides a wide array of statewide services and programs related to collecting, preserving and interpreting Ohio's history, archeology and natural history. The society has about 1.6 million items in its collections throughout its 58 sites and within its 250,000-square-feet Ohio History Center at 800 E 17th Ave. (Exit 111 off Highway I-71), Columbus, Ohio, 43211. The Society receives a portion of its funding from the state, but relies on admission fees, memberships, grants, donations and other forms of revenue to continue to serve Ohioans in the future. For information regarding the Society, contact Jane M. Mason, Director of Marketing and Communications, Ohio Historical Society: 614.297.2312,
jmason@ohiohistory.org.