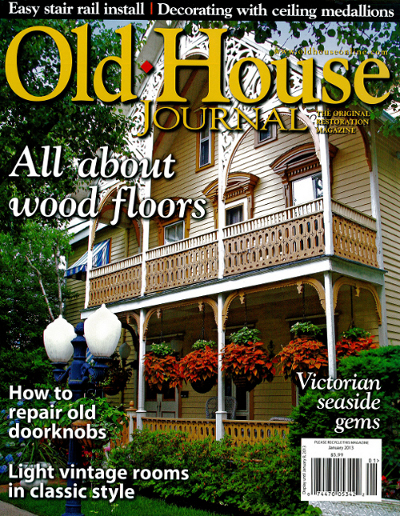 COLUMBUS—The Ohio Historical Society's unique
Building Doctor program
is featured in the January 2013 issue of Old House Journal, now available at newsstands nationwide.
An educational outreach program designed to reach owners of older properties, the Building Doctor program is part of the Ohio Historic Preservation Office at the Ohio Historical Society and is now in its 33rd year. Through clinics that take place all over Ohio, Building Doctors teach old-building owners how to recognize and solve some of the most common sources of problems in maintaining older buildings, and how to make informed decisions about repairs and improvements.
The fact that it is the only program of its kind in the nation run by a state historic preservation office prompted the Old House Journal to contact the manager of the program, Mariangela Zingrone Pfister for an interview. "This is great exposure for a really beneficial program" said Pfister. "Our goal has always been to help all Ohioans learn how to maintain and preserve their historic buildings. These buildings are important, because they tell the story of our past; connect us to our communities, and relate the history of a place. We are pleased to be able to share this program with Old House Journal readers."
One of the clear benefits of the program discussed in the interview is that Building Doctors help inform owners of older properties on the benefits of historic preservation. In the interview, Pfister describes the program's "Fast Facts" that "are a quick hit of how-to information" on topics ranging from wood and paint issues, to rehabilitating windows, removing ivy, and addressing ice dams. An additional unique feature of the program is that because it is run by a State Historic Preservation Office, all its recommendations and information are grounded in The Secretary of the Interior's Standards for Rehabilitation. To learn more about the Building Doctor program and its 2013 clinic schedule, or how to cosponsor a clinic in your community visit
http://www.ohiohistory.org/ohio-historic-preservation-office/building-doctor
.
The Old House Journal is the premier source on preserving old buildings. With a circulation of nearly 5,000, industry insiders often refer to it as the "Wall Street Journal of historic preservation." To learn more about Old House Journal, visit
http://www.oldhousejournal.com/
.
ABOUT THE HISTORIC PRESERVATION OFFICE
The Ohio Historic Preservation Office is Ohio's official historic preservation agency. A part of the Ohio Historical Society, it identifies historic places in Ohio; nominates properties to the National Register of Historic Places; reviews federally-assisted projects for effects on historic, architectural, and archaeological resources in Ohio; qualifies communities for the Certified Local Governments program and administers a program of matching grants to them; consults on the conservation of older buildings and sites; and offers educational programs and publications.
ABOUT THE OHIO HISTORICAL SOCIETY
Founded in 1885, the non-profit Ohio Historical Society provides a wide array of statewide services and programs related to collecting, preserving and interpreting Ohio's history, archeology and natural history. The Society has about 1.6 million items in its collections throughout its 50+ sites and museums and within its 283,000-square-feet Ohio History Center at 800 E 17th Ave. (Exit 111 off Highway I-71), Columbus, Ohio, 43211. The Society receives a portion of its funding from the state, but relies on admission fees, memberships, grants, donations and other forms of revenue to continue to serve Ohioans in the future. For information regarding the Society, contact Jane M. Mason, Director of Communications, Ohio Historical Society: 614.297.2312, jmason@ohiohistory.org.
###