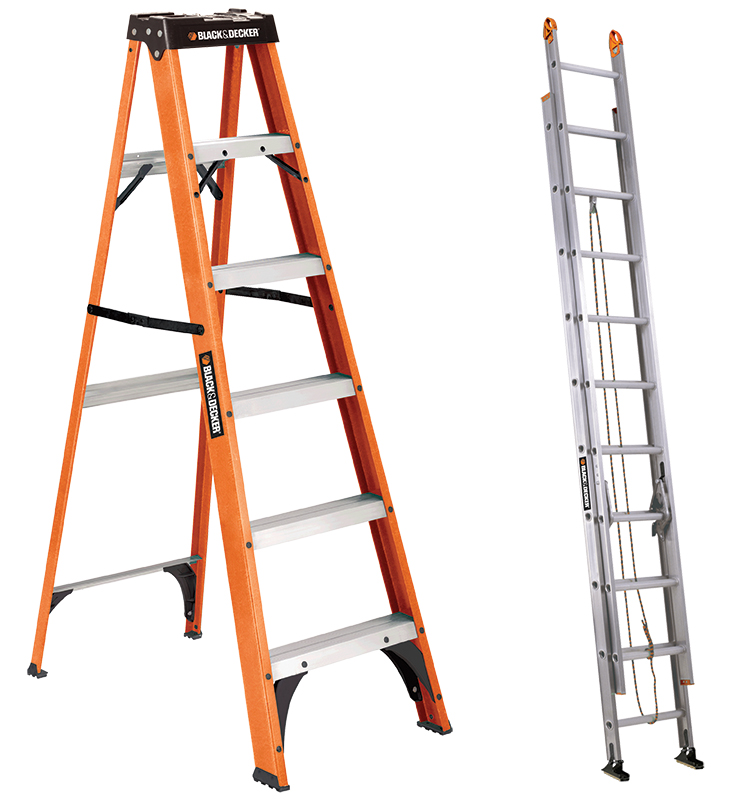 Las Vegas, NV (May 1, 2012) — Louisville Ladder has entered into a licensing agreement to design, manufacture and market a line of ladders and ladder accessories under the Black & Decker brand. The line consists of 17 unique SKUs and includes stepladders, extension ladders and stepstools — all geared toward consumer home use.
Among the new Black & Decker ladders is the BXL2120 aluminum extension ladder. The BXL2120 comes standard with non-marring, slip-resistant integrated ladder caps, aluminum rung locks with latches and slip-resistant rubber shoes for greater stability.
The new product line includes several stepladders like the fiberglass BXL3110. The BXL3110 is safe to use for home electrical projects, and it comes standard with a durable top featuring convenient tool slots and a magnet. The BXL3110 also features an innovative impact absorption system, which helps to prevent damage and extend the life of the ladder. It is constructed with a robust bracing system for increased sturdiness and stability.
The new Black & Decker line also includes a variety of accessories like the BXL2400-00 Pail Shelf and BXL2210-00 Stabilizer. All of the new Black & Decker ladders and accessories were designed and engineered by climbing industry leader, Louisville Ladder.
"When it comes to hardware and home improvement products, no brand is more trusted and respected than Black & Decker," said Santiago Veytia, Director of Marketing for Louisville Ladder. "It has been our pleasure to work with their team to create this remarkable new line of ladders and accessories, and we are confident that consumers will find them superior to anything on the market."
The new Black & Decker ladders and accessories will be available at retailers nationwide in late spring of 2012.
About Louisville Ladder
Louisville Ladder is one of the largest fully integrated manufacturers and distributors of climbing equipment in the world. For more than 65 years, Louisville Ladder has pioneered industry-shaping innovations such as its patented QuickLatch™ rung-lock system, ProTop™ work tray and SHOX™ impact absorption system. With forward-thinking design and state-of-the-art manufacturing processes, Louisville Ladder is committed to delivering innovative, professional-grade climbing products that meet and exceed the demands of modern-day jobsites. Learn more at www.louisvilleladder.com.
About Black & Decker
Since 1910, Black & Decker has been setting the standard for innovation and design of power tools, accessories, outdoor yard care equipment, home cleaning products, automotive and lighting products, hardware and other home improvement products. The inventor of the first portable electric drill with pistol grip and trigger switch, Black & Decker has evolved from a small machine shop in Baltimore, Maryland to a global manufacturing and marketing powerhouse with a broad line of quality products used in and around the home and for commercial applications. When users need to get work done, they trust Black & Decker for the products that will get the job done efficiently and reliably. For more information on Black & Decker's extensive line of products, visit www.blackanddecker.com or follow Black & Decker on Facebook and Twitter.