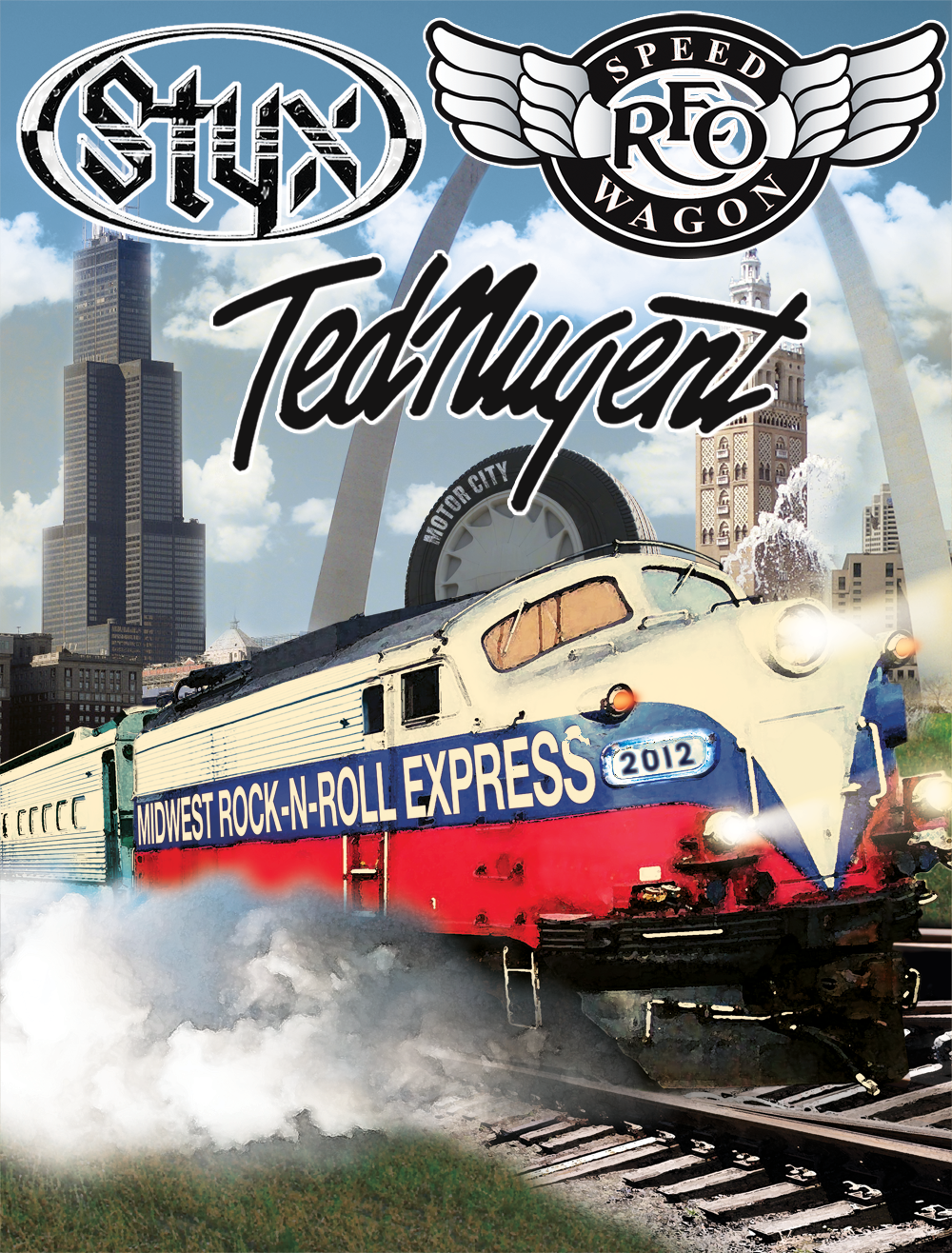 Over 80 million albums sold worldwide. 12 Top 10 smash hit singles. Thousands of concerts performed. The time has come for the ultimate convergence of Rock's finest from the Midwest. REO Speedwagon, STYX and Ted Nugent will join forces for "The Midwest Rock 'n Roll Express" 30-date U.S. tour. Rolling out May 1 in Hidalgo, TX, tickets for various cities will go on sale starting February 22: http://www.livenation.com/Styx-tickets/artist/736216?tm_link=edp_Artist_Name
"Forget all those TV shows with glee clubs singing Rock songs," exclaims STYX guitarist/singer James "JY" Young. "It's time for mega-Platinum Illinois bands STYX and REO Speedwagon in a battle to the end of the Mayan Calendar with the Motor City Madman!"
"I am a Midwest boy, born and raised with Midwest values," continues REO Speedwagon singer/guitarist Kevin Cronin. "In the Midwest we work hard, play hard, and rock hard. I am proud to join my brothers in STYX and Ted Nugent to celebrate Midwest rock 'n roll and represent the greatest rock fans in the world. I am ready to climb aboard the 'Midwest Rock 'n Roll Express!' Rock On baby!"
As STYX singer/guitarist Tommy Shaw proclaims, "It's gonna be a Twang Fest of screaming guitars and big, sing-along choruses that continue to be the soundtrack for the misbehavior of our collective fan base. In other words, a real good time."
Ted Nugent couldn't agree more. "The heart and soul of American R&B&R&R has always gushed forth from the heartland of America. REO, STYX and The Nuge have always celebrated the power of our special music and on the mighty 'Midwest Rock 'n Roll Express,' the energy, attitude and spirit is more intense than ever. This is the soundtrack for the hardcore."
Check out "The Midwest Rock 'n Roll Express" at any of the stops below. Ted Nugent hits the stage at 7:00pm at every stop unless otherwise specified.
DATE CITY VENUE
Tue 5/1 Hidalgo, TX State Farm Arena
Thu 5/3 Albuquerque, NM Hard Rock Casino Albuquerque Presents The Pavilion
* Fri 5/4 Tucson, AZ Anselmo Valencia Amphitheatre (No Ted Nugent)
Sat 5/5 Las Vegas, NV Planet Hollywood Resort & Casino
Sun 5/6 Los Angeles, CA Greek Theatre
Tue 5/8 Denver, CO Red Rocks Amphitheatre
Thu 5/10 Council Bluffs, IA Mid America Arena
Fri 5/11 Oklahoma City, OK Zoo Amphitheatre
* Sat 5/12 Houston, TX Cynthia Woods Mitchell Pavilion (no Ted Nugent)
Sun 5/13 Corpus Christi, TX Concrete Street Amphitheatre
Tue 5/15 Springfield, MO O'Reilly Family Events Center
Thu 5/17 Charlotte, NC Verizon Wireless Amphitheatre
Sat 5/19 Virginia Beach, VA Farm Bureau Live Amphitheatre
Sun 5/20 Alpharetta, GA Verizon Wireless Amphitheatre
Tue 6/19 Park City, KS Hartman Arena
Thu 6/21 Kansas City, MO Starlight Amphitheatre
Fri 6/22 St. Louis, MO Verizon Wireless Amphitheatre
Sat 6/23 Ft. Knox, KY Godman Army Airfield
Sun 6/24 Chicago, IL Charter One Pavilion
Tue 6/26 Cincinnati, OH Riverbend Music Center
Thu 6/28 Detroit, MI DTE Energy Music Theatre
Fri 6/29 Bethlehem, PA Sands Bethlehem Event Center (No REO Speedwagon)
Sat 6/30 Cleveland, OH Blossom Music Center
Sun 7/1 Atlantic City, NJ Borgata Hotel Casino & Spa Event Ctr
Tue 7/3 Verona, NY Turning Stone Resort Casino
Thu 7/5 Uncasville, CT Mohegan Sun Arena
Fri 7/6 Big Flats, NY Summer Stage
Sat 7/7 Gilford, NY Meadowbrook U.S. Cellular Pavilion
Sun 7/8 Bangor, ME Waterfront Pavilion
ABOUT REO SPEEDWAGON
REO Speedwagon is comprised of Kevin Cronin, lead singer and principle songwriter; bass player Bruce Hall; Neal Doughty, keyboard player and founding member; lead guitarist Dave Amato, and drummer Bryan Hitt. Since the release of their first record in 1971, the band has produced 17 critically acclaimed albums including the monumental 10 million seller, Hi Infidelity, had scored 13 Top 40 singles, including the Number One hits "Can't Fight This Feeling" and "Keep On Loving You," timeless classics including "Roll With The Changes", "Ridin' The Storm Out", "Take It On The Run", "Time For Me To Fly" and "Keep Pushin." REO Speedwagon has sold more than 40 million albums to date. For more information about REO Speedwagon, their newest album, and the current tour, please visit www.REOSpeedwagon.com.
ABOUT LIVE NATION ENTERTAINMENT:
Live Nation Entertainment ((NYSE: LYV) is the world's leading live entertainment and eCommerce company, comprised of four market leaders: Ticketmaster.com, Live Nation Concerts, Front Line Management Group and Live Nation Network. Ticketmaster.com is the global event ticketing leader and one of the world's top five eCommerce sites, with over 26 million monthly unique visitors. Live Nation Concerts produces over 20,000 shows annually for more than 2,000 artists globally. Front Line is the world's top artist management company, representing over 250 artists. These businesses power Live Nation Network, the leading provider of entertainment marketing solutions, enabling over 800 advertisers to tap into the 200 million consumers Live Nation delivers annually through its live event and digital platforms. For additional information, visit www.livenation.com/investors.
CONTACTS
For Styx and REO Speedwagon:
Amanda Cagan
ABC Public Relations
818 990 6876
Amanda@abc-pr.com
For Ted Nugent:
Linda Peterson
517 750 9060, ext. 13
Linda@tednugent.com