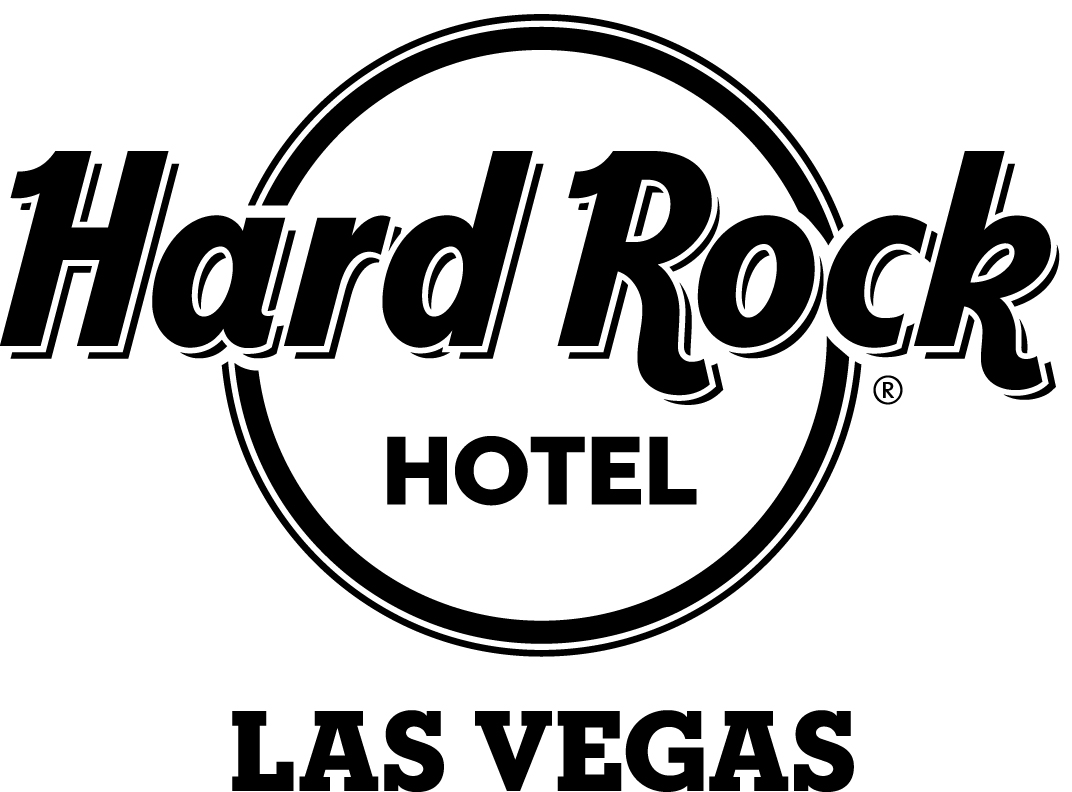 Yesterday,
Hard Rock Hotel & Casino
hosted a memorabilia display dedication with Great Britain's premier arena rock band
Def Leppard
, in honor of its upcoming residency
VIVA Hysteria!
at
The Joint
March 22 to April 13. Def Leppard band members Joe Elliott, Vivian Campbell, Rick Savage, Phil Collen and Rick Allen joined Paul Davis of Hard Rock Hotel & Casino and Bobby Reynolds of AEG Live Las Vegas for the special unveiling.
"Hats off to you guys," said Davis to the band, "We're honored to have this unique instrument here. To see a true piece of rock 'n' roll history is really moving – I can't believe it's here."
The dedication features the original drum kit Allen used following a near fatal car accident. The instrument was custom designed by Allen so he could continue to play the drums after the loss of his arm. The elaborate set serves as Def Leppard's memorabilia centerpiece due to its importance in the group's rock 'n' roll history. During the event, Allen was emotional as he addressed the importance of the one-of-a-kind, self-made drum kit, giving insight into his personal story behind the piece.
"The first time I played this drum kit it was with sheer terror, and it has gotten me to this point," said Allen, "I'm just so happy I can share this not only with the band but all of you."
Allen continued, "There's a natural thing that happens when you lose something where the rest of your body takes over. I think it's a natural response for survival, but there is also a learning curve and that learning curve is pretty steep. Once I got over it, I realized the information was in my brain, and I just needed to channel it to a different limb. It was a long journey, but it was well worth it. We're here. I'm here."
In addition, band members spoke about their upcoming performances and posed for pictures in front of the display. The dedication was the kick-off event to their residency starting today. Three additional exhibits are available for viewing at Hard Rock Hotel & Casino including a display of the band's gold records, iconic guitars and costumes. The special memorabilia will be on display throughout the legendary rocker's residency.
Def Leppard Viva Hysteria! Show Dates: March 22, 23, 27, 29, 30 and April 3, 5, 6, 10, 12, 13
*show time is 8 p.m.
Residency Details:
Produced exclusively by AEG Live, Def Leppard will perform their iconic album HYSTERIA in full as well as a selection of their greatest hits, highlighting classic material from throughout the band's career. VIVA Hysteria! will feature an elaborate set design created only for Def Leppard's Las Vegas residency. Known for legendary big-scale arena shows, Def Leppard will bring their world-class production to The Joint offering an up-close-and-personal experience like never before. With the furthest seat only 155 feet from the intimate venue's stage, VIVA Hysteria! is unlike any show the band has ever done or will ever do again.
Tickets are available starting at $49.50 and can be purchased at the Hard Rock Hotel Box Office, online at www.hardrockhotel.com, ticketmaster.com or charge-by-phone at 800.745.3000. For groups of 12 or more call 702.693.5220 or email groupsales@hrhvegas.com.
Photo credit: © Erik Kabik / Erik Kabik Photography
**high-res version available upon request **
About Def Leppard
With 100 million records sold worldwide and two prestigious Diamond Awards to their credit, Def Leppard--Joe Elliott (vocals), Vivian Campbell (guitar), Phil Collen (guitar), Rick "Sav" Savage (bass) and Rick Allen (drums)—continues to be one of the most important forces in rock music. The group's spectacular live shows, filled with powerful melodic rock anthems, have become synonymous with their name. For the past thirty years the band's concerts have become must-see events and have quickly made them an institution in the touring industry, as they continue to sell out arenas worldwide.
About The Joint
Located inside Hard Rock Hotel & Casino Las Vegas, The Joint is a 4,000-person capacity venue that serves as a sophisticated, intimate and unparalleled entertainment destination. The Joint features seven Luxury Suites, a VIP Studio Level, state-of-the-art sound system, superior video system and a production package tailor-made for artist comfort. It has received numerous accolades including "Best Concert Venue" in Las Vegas Review – Journal's "Best of Las Vegas" awards 2010 – 2012, "Best Music Venue" in 2012 Las Vegas Weekly Awards, "No. 1 Hottest Club in America" award by Billboard Magazine in 2011, "Best Live Music Venue in Las Vegas" by MetroWize.com in 2011, "Best New Major Concert Venue" at the 2010 Pollstar Awards, and "Best Live Music Venue" in AOL City's Best 2010 awards. The Joint delivers unforgettable live music experiences with performances by both legendary and ground-breaking artists including Paul McCartney, The Killers, Bon Jovi, Kenny Chesney, Arcade Fire, Avenged Sevenfold, Rise Against, Paramore, Muse, Drake and No Doubt. The venue created the successful concept of rock 'n' roll residencies with Supernatural Santana: A Trip Through the Hits, Mötley Crüe in Sin City, Guns N' Roses Appetite for Democracy and Def Leppard VIVA Hysteria! as well as Tiësto In Concert, featuring the world's No. 1 electronic DJ and producer Tiësto. For additional information, visit www.thejointlasvegas.com or call 702.693.5583 or 702.693.5000.
About AEG Live
AEG Live, the live-entertainment division of Los Angeles-based AEG, is dedicated to all aspects of live contemporary music performance. AEG Live is comprised of touring, festival, exhibition, broadcast, merchandise and special event divisions, fifteen regional offices and owns, operates or exclusively books thirty-five state-of-the-art venues. The current and recent concert tour roster includes artists such as Taylor Swift, The Black Eyed Peas, Bon Jovi, Usher, Carrie Underwood, Daughtry, Justin Bieber, Leonard Cohen, Wisin & Yandel, Kenny Chesney, P!nk, Enrique Iglesias and Paul McCartney. The company is also currently producing residency shows at The Colosseum at Caesars Palace in Las Vegas including Celine Dion, Rod Stewart and Shania Twain and is the exclusive promoter at The Joint at Hard Rock Hotel & Casino Las Vegas. AEG's exhibition portfolio boasts the most successful exhibition of all time, Tutankhamun and the Golden Age of the Pharaohs, which has attracted more than 8 million visitors since 2005. AEG Live is also the largest producer of music festivals in North America from the critically acclaimed Coachella Valley Music & Arts Festival to Stagecoach Country Music Festival and New Orleans Jazz & Heritage Festival. www.aeglive.com
###
Press Contacts:
Hard Rock Hotel & Casino
Lindsey Rathjen / Laura Bucklin: Kirvin Doak Communications
702.737.3100
Lrathjen@kirvindoak.com / Lbucklin@kirvindoak.com
Def Leppard
Carleen Donovan / Katie Leggett: Press Here Publicity
212.246.2640
carleen@pressherepublicity.com /
katie@pressherepublicity.com