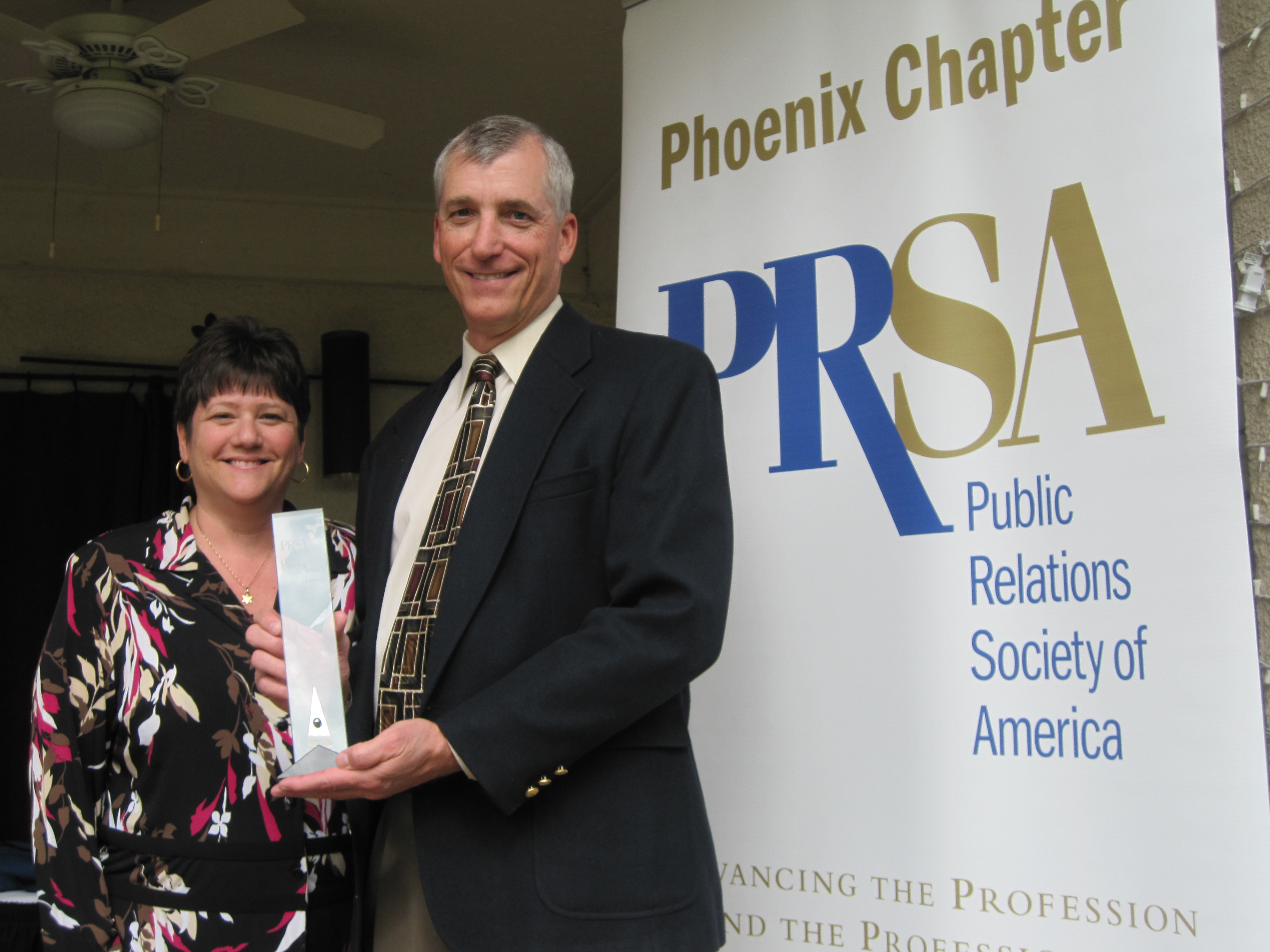 Scott Hanson with business partner Abbie S. Fink at the 2012 PRSA Phoenix Percy Awards. He will accept another lifetime achievement honor - the Emmy Silver Circle - on October 6.

Scott Hanson with business partner Abbie S. Fink at the 2012 PRSA Phoenix Percy Awards. He will accept another lifetime achievement honor - the Emmy Silver Circle - on October 6.
HMA Public Relations announces that its president, Scott Hanson, APR, Fellow PRSA, will be honored during the 2012 Rocky Mountain Emmy Awards on October 6 at University of Phoenix Stadium as he is inducted into the prestigious Silver Circle Society.

The Rocky Mountain Emmys established its Silver Circle Society in 1992. To be eligible for the Silver Circle honor, individuals must have served in the broadcast industry for a minimum of 25 years. Nominations are accepted from broadcast journalism, talent, creative, technical, administrative, as well as TV commercial production and TV education. Joining Hanson are his fellow inductees:
• Paul Burt, KRQE TV
• Rod Decker, KUTV TV
• Barbara Grijalva, KOLD TV
• John Hollenhorst, KSL TV
• Stacy Lincoln, Cox Creative Studios
• Scot Olson, 8 AZ PBS
• Bill Ottinger, KTVK TV

Hanson, a Phoenix native, began his life-long service to Arizona's television and communications industries in the early 1980s as a telecommunications student at Northern Arizona University, where he was awarded both an Arizona Broadcasters Association and Arizona Republic scholarship. Hanson officially began his broadcast career as a sportscaster and weathercaster for NAU TV and then Channel 2 News in Flagstaff, where he worked alongside other Arizona media vets Tim Hattrick, Kevin McCabe, and many others. Always inspired to add a little creativity to his broadcasts, Hanson became known for his interactive interviews where he was never scared to challenge a local coach to a game of horse or even brave the slopes in Flagstaff – even when he had a broken leg. In addition to general sports reporting, during his tenure in Flagstaff, Hanson hosted several interview-style sports programs including The Joe Harper Show, The Larry Kentera Show and The Jay Arnote Show.

After getting married to his college sweetheart and starting a family, he did what all on-air talent does, started sending his tape to stations across the country, just hoping for the right gig to move his young family. That opportunity turned out to be for a station in Corpus Christi, Tex. But upon further reflection, Hanson knew his heart belonged in Arizona and he turned down the opportunity in order to stay close to his family.

Hanson moved back down the mountain to Phoenix, where he began working for Ed Moser & Associates, a Valley public relations agency. Hired as an account writer, he still wanted the action and excitement of television sports. As luck would have it, KPHO TV 5, then an independent station with a 9 p.m. newscast was hiring a weekend sportscaster, and Hanson was hired. During the week, he spent his hours working with clients, training hundreds of people on how to best act in front of the camera while honing his love of writing and reporting via media relations.

In 1991, he purchased HMA Public Relations and serves as its president to this day. He still acts as a media spokesperson for several clients as well as a media trainer, alongside business partner Abbie S. Fink. Additionally, Hanson has hosted Protecting The Public, an award-winning monthly news and information program for Phoenix Channel 11, and has done freelance work for other news organizations, including KPHO-TV (CBS), KSAZ-TV (FOX) and KNXV-TV (ABC). He also appears regularly on KAET-TV (PBS).

Hanson gives back to the television and communications industries in the region on a daily basis. He has volunteered his time as a professional advisor to the Public Relations Student Society of America's (PRSSA) NAU chapter for more than 10 years. He has also served as a guest lecturer, fundraiser and charity golf tournament planner for the school as well as a founding member and former chair of the NAU School of Communication's original advisory council, where he had a hand in re-writing the NAU communications curriculum in the early 1990s.

NAU's Alumni Association even named Hanson as the recipient of its 2009 Jeff Ferris Volunteer of the Year Award for his many contributions to the school. Hanson was honored during NAU's Homecoming football game as well as during the NAU Foundation's annual recognition luncheon at High County Conference Center. Hanson is a member of Valley Leadership Class XX and is active in the Entrepreneurs' Organization. He is on the board of directors for Junior Achievement of Arizona and served for more than a decade on the board of directors for The Arthritis Foundation's Greater Southwest Chapter, as well as representing the chapter on the foundation's National Awareness and Planning committees. He has also served on the board of directors for the Society of Professional Journalists' Phoenix Chapter.

In addition to the Silver Circle inductions, Rocky Emmys will be awarded in more than 90 television, production and creative communications categories during the gala event. Nominees in these categories include KTVK TV 3, CBS 5, FOX 10, 12 News, ABC 15, Cronkite News Service, Telemundo, Arizona Game and Fish Department, City of Prescott, Maricopa County Association of Governments, NAU TV, KUAT TV, E.B. Lane, Mesa Fire and Medical Department, COX Media, Republic Media, Tempe 11, The Lavidge Company, Phoenix 11, Arizona PBS, Univision, Arizona Cardinals, Fox Sports Arizona, KOLD 13, KGUN 9, Tucson 12, BYU Television and many more. For more information about the Rocky Mountain Emmy Awards or to purchase tickets, please visit RockyMountainEmmy.org.

HMA Public Relations is a full-service marketing communications agency whose experience encompasses work in the traditional marketing communications disciplines including public relations, media relations, marketing communications, issues management, community relations and special events. Located at 3610 N. 44th St., Suite 110 in Phoenix, HMA Public Relations can be reached at (602) 957-8881. Its web address is www.hmapr.com.