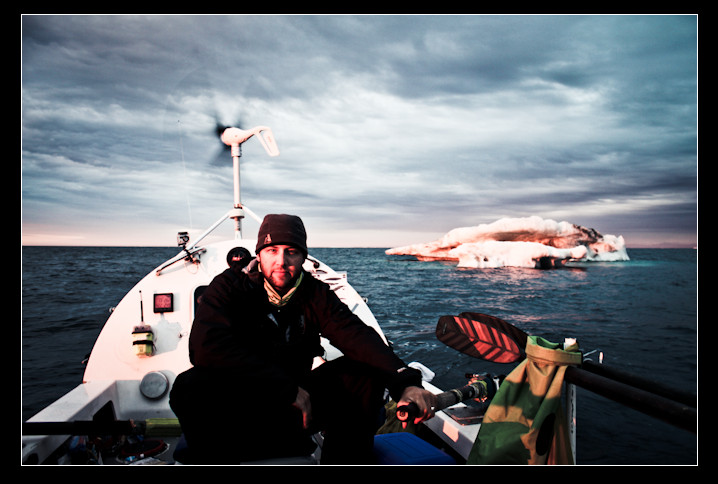 Bellevue, WA
–
Oct. 1, 2012
– Eddie Bauer is proud to announce the completion of Team Arctic Row's non-stop, unsupported row across the Arctic Ocean. After spending 41 days rowing more than 1,000 miles through frigid Arctic waters, the team successfully finished their expedition in Point Hope, AK at 1:46 p.m. local time on Sunday, August 26, 2012. As a result, the team pioneered a new route for modern ocean rowing, which is considered to be the longest in Arctic history measured by duration and distance.
On Tuesday, July 17, Paul Ridley, Collin West, Neal Mueller and Scott Mortensen set out from Inuvik, Canada on one of the most ambitious and challenging expeditions in ocean rowing history. The goal of the expedition was to raise awareness of the changes in the Arctic climate, which has only recently become passable as a result of climate change and melting sea ice. Combining human power exploration and marine science, the team rotated between the two rowing positions aboard the 29-foot-long, six-foot wide rowboat to navigate through the delicate ecosystem, conducting scientific research and collecting data that will aid scientists at
The University of Alaska Fairbanks
and
Adventurers and Scientists for Conservation
.
"Since returning home, we've some time to reflect back on everything it took to complete Arctic Row and we all have mixed feelings about the journey," said Mueller. "On a personal level, we are excited at the prospect of completing such an epic voyage and being able to report our scientific findings to aid ongoing research vital to the global environment. At the same time though, you can't help but feel a touch of melancholy when you remember the only reason we have such an opportunity is a result of the Arctic sea ice melting due to global warming."
To prepare for the expedition, the team spent more than 20 months training, planning various logistics, and outfitting their boat with the latest technology needed to complete their research and journey. Anticipating extreme environmental conditions, the team was fully-outfitted in
Eddie Bauer's First Ascent
expedition-class gear and apparel to protect them from the elements. During the expedition, they encountered one of the strongest August storms the Arctic has had in more than 30 years. With safety being of paramount concern, the team had to anchor off shore three times throughout their journey in order wait until weather conditions improved. While time and resources began to dwindle, their resolve and determination remained steadfast to achieve their goal.
"Now more than ever is a time for individuals to take it upon themselves to find ways to make a difference in the battle against global warming," said Mortensen. "Our team was determined to not let anything stand in our way. When Mother Nature did her best to slow us down, we answered with vigor. Our hope is that our journey will bring attention to important studies being conducted by our scientific community, and inspire others to make a difference."
Eddie Bauer is proud to have supported
Arctic Row
through our
BE FIRST
program in their quest to accomplish "one of the last great firsts." For more than 90 years,
Eddie Bauer
has helped people explore the world by outfitting adventurers and outdoor enthusiasts.
To learn more about Arctic Row's expedition, please visit their blog,
Facebook
or
Twitter
. You can also read more about the expedition on Eddie Bauer's
First Ascent Facebook
or
Twitter
channels, or
Born Out There
blog.
To learn more about Eddie Bauer's First Ascent BE FIRST Program, please visit
www.eddiebauer.com/befirst
.
About Eddie Bauer
Established in 1920 in Seattle, Eddie Bauer is a specialty retailer that sells sportswear, outerwear, gear and accessories for the active outdoor lifestyle. The Eddie Bauer brand is a nationally recognized brand that stands for high quality, innovation, style and customer service. Eddie Bauer products are available at approximately 350 stores throughout the United States and Canada, through catalog sales and online at www.eddiebauer.com. Eddie Bauer is proud to be named a J.D. Power 2011 Customer Service Champion and is only one of 40 companies so named in the U.S. Eddie Bauer was purchased in 2009 in an all-cash transaction by Golden Gate Capital, a San Francisco-based Private Equity firm with over $12 billion under management and a leading investor in specialty retailing.
MEDIA CONTACT: Molly McWhinnie, +1-425-755-6440, molly.mcwhinnie@eddiebauer.com
###
Notes to Media:
Arctic Row was fully-outfitted in the following Eddie Bauer First Ascent expedition-class gear and apparel items:
•
First Ascent Katabatic™ Tent
•
First Ascent Pantheon Dome Tent
•
Eddie Bauer Karakoram -30° Down Sleeping Bag
•
Eddie Bauer Igniter +15° Synthetic Insulation Sleeping Bag
•
First Ascent Alchemist 40L Backpack
•
First Ascent Maximus 150 Duffel Bag
•
First Ascent Maximus 80 Duffel Bag
•
First Ascent Maximus 40 Duffel Bag
•
First Ascent Peak XV® Down Parka
•
First Ascent BC-200 Hard Shell Jacket
•
First Ascent Serrano Insulated Jacket
•
First Ascent Hyalite Soft Shell Jacket
•
First Ascent Point Success® Fleece Jacket
•
First Ascent Cloud Layer® Fleece Jacket
•
First Ascent Expedition Weight Bat Hang Hoodie
•
First Ascent Guide Hoodie
•
First Ascent Rainier Storm Shell Pants
•
First Ascent Midweight Baselayer Pants
•
First Ascent Igniter Insulated Pants
•
First Ascent Nail Driver Pants
•
First Ascent Peak Bagger Polo Shirt
•
First Ascent Expedition Flannel Shirt
•
First Ascent Uprising Jeans
•
First Ascent Send Shorts