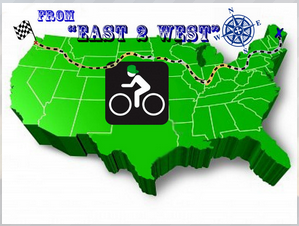 Cleveland, OH – Kory Piorkowski is on a mission to bike across the United States during the summer of 2013. But, that's only half the story. This cyclist is stopping at numerous towns along the way, helping people adopt a greener lifestyle by rolling up his sleeves and pitching in on various projects to promote environmental sustainability and an appreciation for the outdoors.

The Spokes of Green mission is to educate communities on the benefits of going green and living a healthy lifestyle. Beginning on June 15 in Bar Harbor, ME, Piorkowski will embark on his tour "East 2 West," cycling across 15 states. He currently has 13 stops planned throughout the tour, and expects to complete by August 15 in Seattle, WA at Salty's on Alki Beach. His goal is to share his dream of creating a healthy planet where everyone can enjoy the benefits of the outdoors and living an active lifestyle.

"I have always been attracted to the outdoors," Piorkowski says. "I love to hike and bike on trails, roads or wherever I choose to explore. But, it's also important to me to give back to my community. This bike tour is a way for me to combine my two passions."

Piorkowski will use a Fuji Cross 3.0 bicycle to ride more than 3,300 miles on this endeavor, while his crew of six videographers and helpers will travel by a gas friendly vehicle. This entourage will not only document the entire adventure on video as they deliver supplies, but also provide manpower at underprivileged schools where they will build new playgrounds and plant organic gardens, giving kids the chance to enjoy the outdoors as much as Piorkowski does.

Inspired by nature as well as helping others discover beautiful, fun places, Piorkowski is pursuing a degree in travel and tourism. He is a full-time student at Lakeland Community College where he founded the Adventure Activities Club, a group dedicated to exploring the local terrain of northeast Ohio. He is also an intern at The Cleveland Visitors Bureau with Positively Cleveland. After the East 2 West bike tour, he plans on obtaining a travel and tourism position within Cleveland, OH. He also enjoys volunteering within his community and traveling to Virginia to spend quality time with his three lovely nieces.

Piorkowski's enthusiasm has been contagious, which has helped him garner support from a number of sponsors including Eddie Bauer, Tree Bicycle, Sirius Alpacas, Fuji Bicycles, Ohio Connect, Legacy Construction Services, Aero Tech Designs, the Cleveland Browns and more. Other opportunities to sponsor this noble cause are still available. Visit the website: www.spokesofgreen.com for details or to make a donation.

About Spokes of Green
The Spokes of Green From East 2 West Tour's mission is to educate and strengthen communities along its bike route on the benefits of going green and living a healthy lifestyle. This tour is changing the lives of people for the better one bike ride at a time.
To learn more about the Spokes of Green From East 2 West tour or to donate or sponsor a leg of the journey or contribute supplies, visit: www.spokesofgreen.com.
To follow the tour, you can "Like" From East 2 West Tour on Facebook or "Follow" Spokes of Green on Twitter.