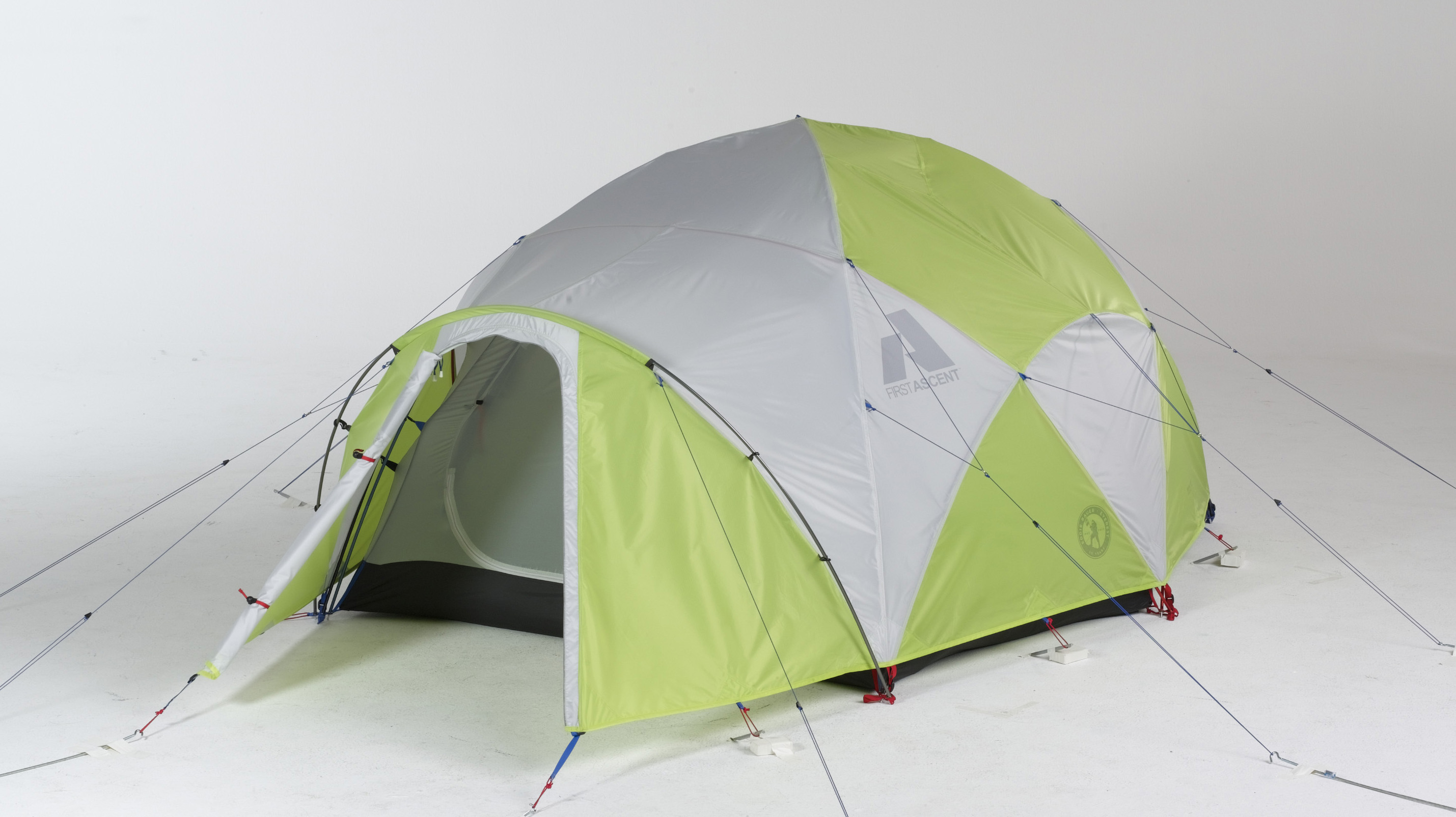 Eddie Bauer, the Original Outdoor Outfitter®, announces the launch of its new tent, pack and sleeping bag collection. From the first attempt on K2 in 1953 and the first American ascent of Mt. Everest in 1963, the Eddie Bauer brand has had a long history of equipping high-altitude expeditions with the highest-quality gear. The new collection includes gear that is designed and built upon the same Guide-Built, Guide Tested strategy used to design the First Ascent technical apparel and ranges from the Everest-ready tents, packs and sleeping bags, to a full gear offering for a family weekend getaway. Making Eddie Bauer proud to be THE outdoor outfitter for every adventure.

TENTSKatabatic Tent - The new tent collection is highlighted by the 4-season expedition tent, the Katabatic. The term, Katabatic (kata 'batik) relates to the type of downward wind currents found in glacial or Polar Regions. The Katabatic was tested for weeks by the First Ascent Guide team on Mt. Vinson in Antarctica, as well as Everest, and Rainier so this tent has earned its name. In all, this tent went through 5 different proto-types in over 3 years to get the final version ready for Eddie Bauer's 50th commemorative expedition up Everest this spring. Highlights include a double wall construction to help with condensation control, a two-vestibule design to provide extra space for storage and space, steep walls to help maximize floor space and an interior organizer that consists of multiple storage pockets for gear.
MSRP $599; Dimensions: Length 90", Width 85", Peak Height 48", Floor Area 49.5 sq. ft., Vestibule Size 18 sq. ft., Weight 10 lbs. 5 oz.

Stargazer™ - This is the go-to 3-season backpacking tent that was designed by the First Ascent Guides for those backcountry trips that didn't require a 4-season tent. The lightweight, packability of this tent is ideal for extended tours in the backcountry to keep you protected and the elements out. It has a color-coded single-pole setup for quick pitching in any weather, a full lightweight rain fly that provides outstanding weather protection and a double-door design for convenient entry and exit.
2-Person: MSRP $299
Dimensions: Length 90", Width 61", Peak Height 43", Floor Area 36 sq. ft., Vestibule Size 16 sq. ft., 4 lbs. 5 oz.
3-Person: MSRP $349
Dimensions: Length 96.5", Width 73", Peak Height 55", Floor Area 48.5 sq. ft., Vestibule Size 27.6 sq. ft., 4 lbs. 15 oz.

Pantheon Dome - The Pantheon Dome as been base camp for the First Ascent Mountain Guide Team for the last three years in regions ranging from Antarctica, to the Himalayas and the Andes. Large enough and burly enough to warehouse months of supplies with its DAC aluminum pole frame construction, 210 Nylon Oxford with 2,000mm PU coated floor and 1,500 mm PU coated walls.
MSRP $1,999
Dimensions: Vestibule Space 40.5 sq. ft., Center Height 100", Weight 43 lbs.

Carbon River Tent - A 3-season family camping tent that makes pitching a breeze so more energy can be spent on being with the family and having fun. Highlights include easy-to-pitch color-coded aluminum poles, a full rain fly and interior pockets to help keep items organized and easy to get to.
2-Person: MSRP $199
Dimensions: Length 92.5", Width 60", Peak Height 47", Floor Area 38.5 sq. ft., Vestibule Size 10.4 sq. ft.
3-Person: MSRP $249
Dimensions: Length 96.5", Width 73", Peak Height 55", Floor Area 48.5 sq. ft., Vestibule Size 13.8 sq. ft.

Olympic Dome - The ultimate in car camping comfort for any outing that might be planned with the family. Available in 4-person or 6-person configurations, the Olympic Dome is logically designed for quick pitching and has you protected from the elements. Color-coded aluminum poles make it quick to setup, a full rain fly keeps you protected, two large vestibules keeps gear protected outside of the tent and multiple interior pockets and a gear loft helps keep your gear organized and clutter free.
4-Person: MSRP $279
Dimensions: Length 88", Width 100", Peak Height 60", Floor Area 61 sq. ft., Vestibule Size 24.5 sq. ft.
6-Person: MSRP $399
Dimensions: Length 118", Width 144", Peak Height 74", Floor Area 118 sq. ft., Vestibule size 40.5 sq. ft.

PACKSAlchemist 40 Pack - A tough and dependable alpinist pack that can withstand large hauls to base camp with its expandable 40 liter to 55 liter design, but then straps down into a smaller pack for the final summit push. The Alchemist uses ultralight 210-Denier triple ripstop nylon and 420-Denier double ripstop nylon with TPU coating to repel water and resist abrasion without excess weight. An integrated bivy pad adds comfort and support in the pack but can be removed to add in comfort for breaks or belays, or even used in an emergency overnight as a bivy. Compression rods stabilize and distribute heavier loads, a wide-mouth entry allows fast and easy access and the quick-release tool carry provides easy access to axes, poles or wands. The exterior gear organizer stows pickets and skis with minimal hassle and the EVA-molded belt and back provide support for heavy loads.
MSRP $199
Specs: Expandable 2440.9 cu. in. to 3356.3 cu. in., Weight 4 lbs. with BFF, 3.4 lbs without BFF

Also available-the Alchemist 30- For single-day climbs or mountain training missions, this Alchemist 30L Pack is sized perfectly to fit the essentials for a long day at elevation. The structured support system easily hauls dense, heavy loads of climbing hardware over rough terrain. MSRP $139

Bacon Pack - A pound and a half of pure bliss, this 28-liter technical summit pack pares down weight to the mandatory minimum for lightning-fast ascents or long solo missions. The ultralight 650-gram design shaves weight for extended single-day epics or fast summit pushes. The packable construction packs into a zippered pocket to cram easily into overnight bags. A handy ski-carry system securely holsters skis when boot packing in the A-frame style.
MSRP: $99.95
Specs: 210-denier triple ripstop nylon; diamond ripstop Cordura® nylon, Capacity: 28 liters, Weight: 1 lb., 7 oz

Arclite Pack - An Ed Viesturs/Peter Whittaker brainstorm, this traditional top-loader serves as the perfect utility pack for every function, from long treks and rough scrambles to hauling heavy loads of climbing hardware. Made tough with strong textile construction and?durable 420-denier tpu-coated double rip-stop nylon with 210-denier triple rip-stop nylon. The top lid organizer has?three zippered guide pockets to stow critical items. The necessary hydration sleeve and portal allow you to use the hydration reservoir of your choice. The side-entry zipper is crucial in allowing full access so that you don't have to unpack everything.
MSRP: $169
Small is 35 liters, and accommodates a 16-in. torso length; Medium is 40 liters, and accommodates an 18-in. torso length; Large is 45 liters, and accommodates a 21-in. torso length; Weight: 3lbs., 9 oz.

SLEEPING BAGSKarakoram 0° Down Sleeping Bag - From Asia's Karakoram Peaks to the backcountry of western Washington, this mummy handles the highest and coldest extremes. Its name commemorates the first attempted ascent of K2 in 1953. The 850 Fill Premium European Goose Down is for high-performance warmth and loft, paired with a light yet tough Pertex™ shell that resists abrasion without excess weight, the Kara Koram is ready for any adventure. An interior pocket keeps electronic essentials safe from freezing temperatures and the three-dimensional footbox is designed for maximum comfort. Available in three temperature ratingss - 30° Kara Koram Down Sleeping Bag MSRP $499; Weight 3 lbs. 15 oz. (regular size) 0° Kara Koram Down Sleeping Bag MSRP $379; Weight 2 lbs. 12 oz. (regular size) +20° Kara Koram Down Sleeping Bag MSRP $299; Weight 2 lbs. 4 oz. (regular size)

The Igniter 0° Synthetic Insulation Sleeping Bag - Designed to battle the colder extremes of winter camping or expedition basecamp environments, the Igniter 0° fuses synthetic Climashield® Apex continuous filament insulation with durable, lightweight and packable Pertex® ripstop 20-denier fabric. The lofty, synthetic fill traps heat without excessive weight or bulk and the Endurance coating not only creates a barrier to moisture, it also increases the thermal efficiency by keeping the warm air from escaping.
MSRP: Short: $279, Regular: $279, Long: $299; Dimensions: (Regular) 84"L x 33"W, (Long) 90"L x 33"W, (Short) 78"L x 33" W


As with all Eddie Bauer products, the new tents, sleeping bags and pack collection are all backed by Eddie Bauer's unconditional lifetime guarantee. The items above show highlights of the gear collection. To view the entire collection and for more information on Eddie Bauer's new gear launch, please visit: www.eddiebauer.com.
About Eddie Bauer: Established in 1920 in Seattle, Eddie Bauer is a specialty retailer that sells sportswear, outerwear, gear and accessories for the active outdoor lifestyle. The Eddie Bauer brand is a nationally recognized brand that stands for high quality, innovation, style and customer service. Eddie Bauer products are available at approximately 337 stores throughout the United States and Canada, through catalog sales and online at www.eddiebauer.com. Eddie Bauer is proud to be named a J.D. Power 2011 Customer Service Champion and is only one of 40 companies so named in the U.S.