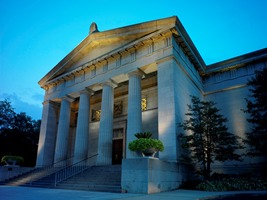 The Cincinnati Art Museum today announced it will expand its free parking policy, to further its mission of bringing people and art together and to provide unparalleled visitor amenities.

Beginning January 1, 2010, the Art Museum will provide free parking to customers of the Art Museum Shop, diners in the Terrace Cafe and attendees of paid programs.

As always, School Groups, Members, and Volunteers park for free.

Free Parking is now extended to:

Diners who spend $10 or more in the award winning Terrace Cafe.
Patrons who spend more than $15 in the Art Museum Shop.
Visitors who attend paid programs.


The Art Museum is accessible to mass transportation via Metro bus line Number 1.