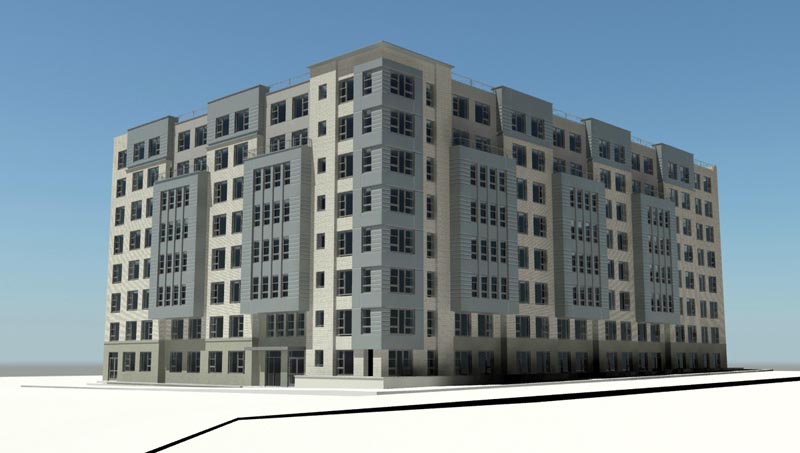 BrightFarm Systems
is proud to announce that Blue Sea Development Company's new state-of-the-art affordable housing complex planned for the South Bronx, NY, will be the first ever affordable housing development to feature a fully integrated hydroponic rooftop farm, designed by BrightFarm Systems. The six-story affordable housing building will feature a 10,000 sq ft rooftop greenhouse that will operate using leftover heat from the building and water harvested from the greenhouse roof. Annually, the farm will be capable of producing the equivalent fresh vegetables needs of up to 450 people, capture 750,000 liters of stormwater, and mitigate 80 tons of CO2.
Blue Sea Development was selected as the developer of a 123-unit building on the grounds of the New York City Housing Authority (NYCHA)-owned Forest Houses. The development is part of a NYCHA and New York City Department of Housing Preservation and Development's (HPD) initiative to expand development of affordable, sustainable housing units in the City.
BrightFarm Systems is proud to be working with Blue Sea Development Company, a firm that is committed to the mission of green and sustainable communities and homes. The company's principals have developed thousands of units of affordable housing over the past 30 years and built the first Energy Star (2002), LEED Silver (2007) and LEED Platinum Multifamily affordable housing developments in New York State.
Like many inner city, low income communities, the South Bronx suffers from food deserts, where residents lack access to fresh vegetables at affordable prices. The rooftop farm will make a significant contribution to food access and public health in the neighborhood.
Dr. Ted Caplow, designer of the
Science Barge
and a Senior Partner at BrightFarm Systems, explains: "This project continues to build upon our vision for self-sufficient sustainable cities, where sound ecological design will deliver a larger share of our food, water, and power from within the built environment itself. The net result is greener, healthier places to live and work, a more secure food supply, and new workforce development opportunities where we need them most."
BrightFarm Systems is a specialist greenhouse design consultancy focused exclusively on the design of hydroponic rooftop greenhouses and Building Integrated Agriculture. Beginning in 2006 with the internationally renowned Science Barge, the world's first carbon neutral farm, BrightFarm Systems along with parent organization New York Sun Works have been at the forefront of engineering and system design for sustainable urban food systems.
The company's team presents a unique expertise in system engineering, horticultural science, and ecological process design. BrightFarm Systems has performed ecological analysis, designed, and developed Building Integrated Agriculture systems for clients such as Whole Foods Market, Arup, New York City public schools, Gotham Greens, Top Sprouts, Sky Vegetables, and Blue Sea Developments. Recently featured by National Geographic, Science, ABC World News, Supermarket News, Treehugger, and Dan Rather Reports, the firm continues to play a significant role in the modern urban agriculture movement.