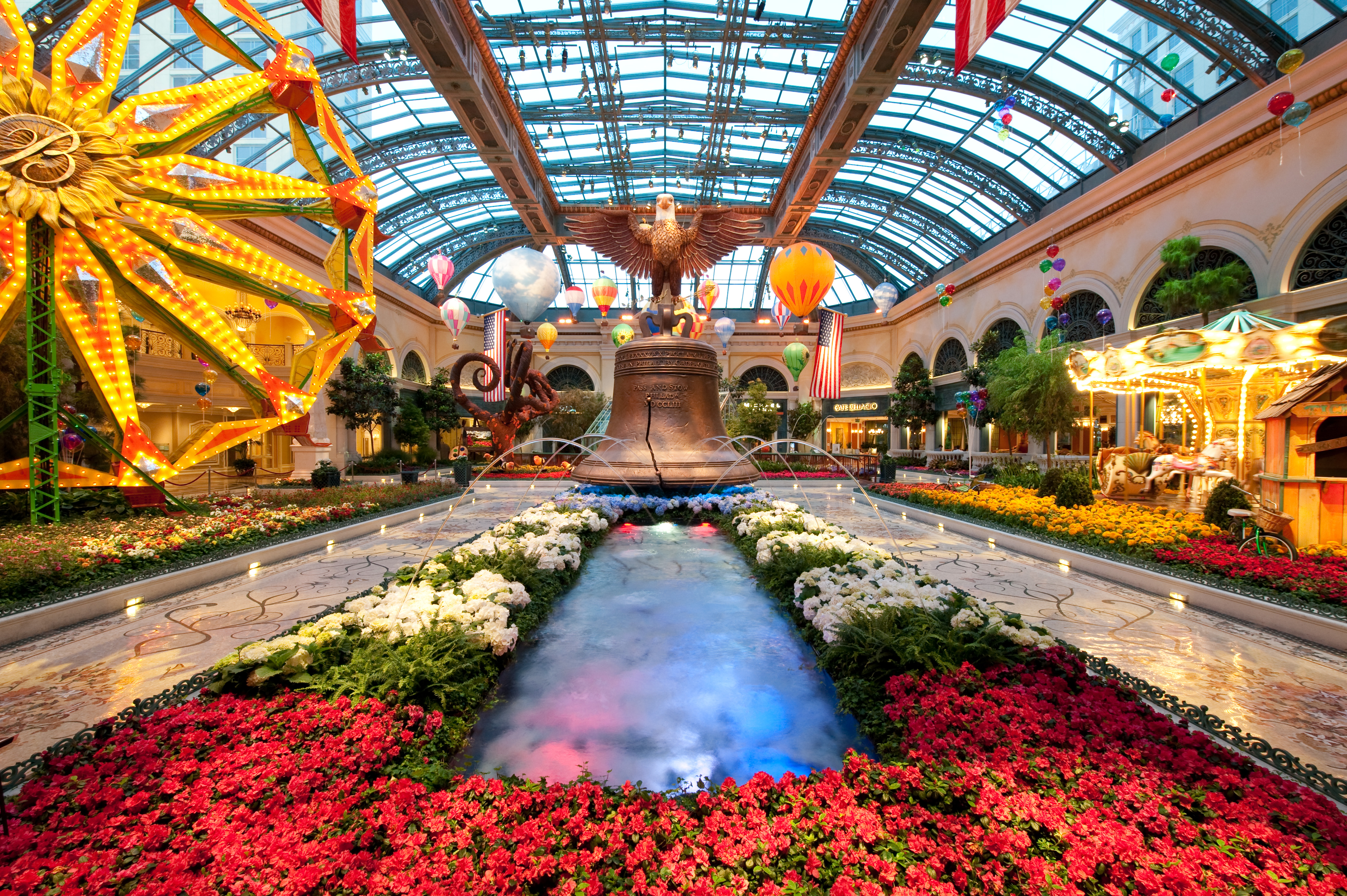 LAS VEGAS - Bellagio's Conservatory & Botanical Gardens reveals new elements to its summer display, featuring a spectacular floral exhibition filled with bright blooms and a playful carnival. Reminiscent of the lazy days of the year's longest season, the vibrant exhibit features a moving 11-foot tall carousel, a 40-foot full-scale Ferris wheel and patriotic displays of the Stars and Stripes.

At the entrance of the Conservatory and new to the exhibit, a reflective pond showcases an American Bald Eagle, made from coconut chips, magnolia leaves and chopped strawflowers, mounted on an overscale replica of the Liberty Bell. Nearby, a stone-based rustic greenhouse houses 30 live birds -Lorikeets and Rosellas. Steps away, a father bear and his cub are seen on a whimsical fishing adventure, clad in botanical fishing vests and hats, both carrying wooden poles.

In conjunction with the Bellagio Gallery of Fine Art's new exhibit "A Sense of Place: Landscapes from Monet to Hockney," the Conservatory has created an interpretation of Armand Guillaumin's Vue de Pontcharra Plaine de l'Isere le Soir (1901) using a colorful array of flora. Located in the Giardini corner, the recreated painting is fitted within a 6-foot tall elaborately carved frame accompanied by a 12-foot wood tapered painter's brush and oversized paint palette with simulated smeared oil paints.

On view through September 10, the summer display within Bellagio's Conservatory & Botanical Gardens is complimentary to the public and open seven days a week, 24 hours a day.

# # #

Media Contact:
Shant Apelian
MGM Resorts Public Relations
(702) 650-7562 (office)
Sapelian01@mgmresorts.com

Appointments for photo shoots and tapings are available upon request.