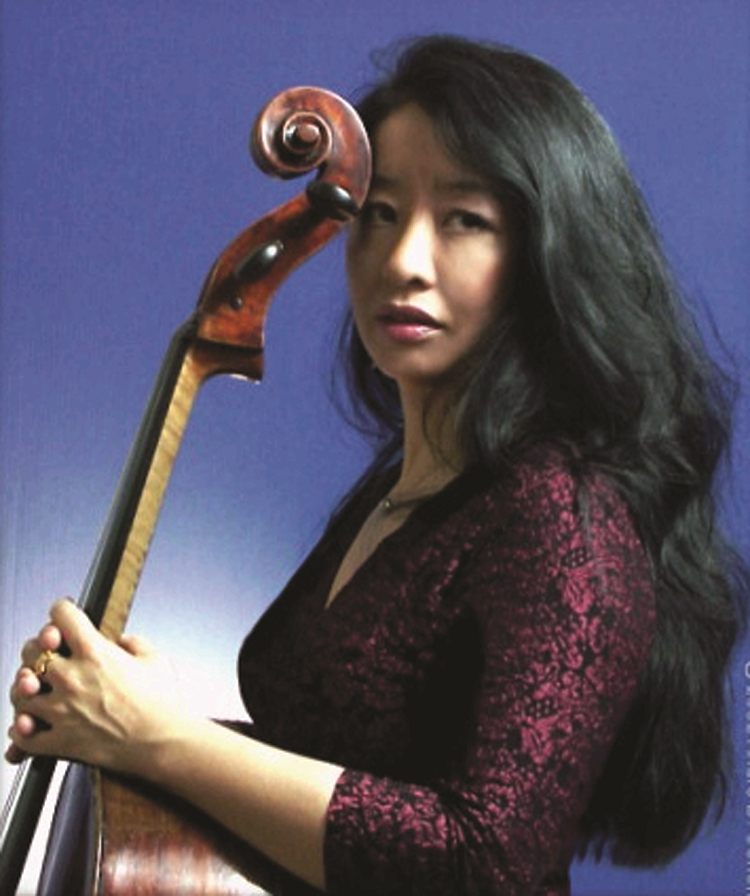 LONG BEACH SYMPHONY ORCHESTRA presents
DYNAMIC DVORÁK, BEAUTIFUL BRAHMS
SATURDAY, APRIL 28, 2012
Guest cellist Cécilia Tsan (LBSO's Principal Cellist) plays
Dvorák's Concerto for Violoncello
Also on the program are two pieces by Brahms:
Hungarian Dances (Nos. 5-7) and Symphony No. 3
Concert also includes the World Premiere of Suite for Double String Orchestra by USC Music Professor and Composer Robert Cummings
LONG BEACH, CA – April 10, 2012 – Dvorák's Concerto for Violoncello is a technically challenging and emotionally charged piece, and the final solo concerto written by Dvorák.
Audiences will experience Dvorák's musical tribute to the muse of a lost love when LBSO Principal Cellist Cécilia Tsan joins Music Director Enrique Arturo Diemecke and the Long Beach Symphony Orchestra to perform Dvorák's Concerto for Violoncello on Saturday, April 28, 2012, at the Terrace Theater in Long Beach.
Also on the program are two pieces by Brahms – HungarianungarianH Dances (Nos. 5-7) and Symphony No. 3 – and the World Premiere of Suite for Double String Orchestra by Robert Cummings, which was inspired by his visit to Rancho Los Alamitos, one of Long Beach's cultural treasures.
Extensive program notes for this concert are available on the Long Beach Symphony Orchestra website.
Tickets are $25 to $85. Student rush tickets are available for $10 with valid I.D., 90 minutes prior to the performance. For more information, call (562) 436-3203, or visit LBSO.org.
ATTENDING THE CONCERT
All LBSO Classics Concerts take place at the Long Beach Performing Arts Center in the Terrace Theater, 300 East Ocean Blvd. in Long Beach. Concerts begin at 8 p.m. Doors open at 6:30 p.m. Concertgoers are invited to enjoy live entertainment from local music ensembles in the lobby prior to the concert.
Popular Pre-Concert Talks are held from 7 to 7:30 p.m. before each Classics concert. These informative talks – led by KUSC radio personalities or noted musicologists – add considerably to the enjoyment of the evening by offering insight into the evening's composers and their music. This concert's Pre-Concert Talk is hosted by Rich Capparela of KUSC.
LBSO Classics Concerts are an ideal date night or an evening out with friends. Many enticing restaurants are within a short walk of the Terrace Theater, so dining before – or even after – a concert is easy and fun.
Concertgoers often wonder what to wear to a symphony concert. While some concertgoers do dress casual, many people are more comfortable dressing up a little. It's a grand affair and a who's who around town, so why not dress for a nice night out in vibrant downtown Long Beach.
The Long Beach Symphony Orchestra is proud to have Lexus as its 2011-2012 Classics Season sponsor.
ABOUT GUEST ARTIST CÉCILIA TSAN
Born in Versailles (France) of Chinese musician parents, Cécilia Tsan began playing the cello at the age of five with the same teacher as her childhood friend Yo-Yo Ma, who was an inspiration for her. After being awarded her Baccalaureate Degree, she went on to study Philosophy and Chinese and was accepted as first in her class at the Conservatoire National Supérieur de Musique de Paris, where she studied under the direction of André Navarra. In 1976, she graduated summa cum laude, with top honors in cello and in chamber music.
Cécilia has won prizes at the Barcelona International Competition and the Florence International Competition as well as the Debussy Prize at the Paris International Competition held by the Guilde Française des Artistes Solistes. She is also a winner of the Menuhin Foundation Award.
Cécilia has given many concerts, not only as a soloist, but also as a chamber musician. She has toured extensively in France, Italy, Switzerland, England, Austria, Germany, Yugoslavia, Argentina, Brazil, Canada, U.S., Japan and Taiwan. Since 1991, Cécilia has been residing in Los Angeles. In the United States, her concerts have led her to such cities as Washington D.C. (Library of Congress, Coolidge Auditorium), Chicago, San Francisco, Santa Barbara, Martha's Vineyard, Santa Fe Chamber Music Festival, La Jolla Summer-fest, and Mainly Mozart. She serves as Principal Cellist of the Long Beach Symphony Orchestra, and occasionally with the Pasadena Symphony Orchestra and the L.A. Master Chorale. She also served in that position for four years with the New West Symphony.
She played the Dvorak Cello Concerto in several concerts in Taiwan as well as various recitals and chamber music concerts in the US and in France. Her recent concerts include the Haydn C major Cello in France and the US, Edgar Meyer "Double Concerto" (with Edgar Meyer playing the bass and Jeffrey Kahane conducting), the Tchaikovsky Roccoco Variations and the Elgar Cello Concerto.
Cécilia has also recorded the Suite for Cello and String Orchestra written for her by Clare Fischer; the composer decided to write two extra movements for the piece after they recorded Early Years together. With the Long Beach Symphony Orchestra, she played the West Coast premiere of music director Enrique Diemecke Camino Y Vision for cello and orchestra. The piece includes a cadenza written especially for her. More recently, she gave several performances of the Saint-Saëns 1st Cello Concerto, in Oregon and California. She has also given several recitals in France and the US with pianist Jean-Louis Haguenauer and internationally acclaimed pianist Pascal Rogé.
Cécilia is also active in the motion picture industry and the recording studios in Los Angeles, having recorded hundreds of movie soundtracks with composers such as John Williams, James Horner, David Newman, Randy Newman, Alan Silvestri, James Newton-Howard and Jerry Goldsmith, to name a few. In March 2000, she was invited to the Academy Awards ceremony to perform a solo on stage with composer Randy Newman and singer Sarah McLachlan. For two years, she has been heard as Principal Cello of the American Idols Orchestra.
Read more about Cécilia on her website: www.CeciliaTsan.com.
ABOUT ENRIQUE ARTURO DIEMECKE & LONG BEACH SYMPHONY ORCHESTRA
Music Director Enrique Arturo Diemecke brings an electrifying balance of passion, intellect and technique to his performances. Warmth, pulse, and spontaneity are all hallmarks of his conducting – conducting that has earned him an international reputation for performances that are riveting in their sweep and dynamism. In 2009, the Arts Council for Long Beach honored him with the coveted "Distinguished Artist Award". In the words of The New York Times, Diemecke is a conductor of "fierceness and authority." A noted interpreter of the works of Mahler, Maestro Diemecke has been awarded a Mahler Society medal for his performances of the composer's complete symphonies.

The 2011-2012 Symphony Classics season marks Maestro Diemecke's eleventh season as Music Director of the Long Beach Symphony Orchestra, his fifth season as Music Director of the Buenos Aires Philharmonic of the famed Teatro Colon, and his twenty-second season as Music Director of the Flint Symphony Orchestra. In 2010 he was named Music Director of the Bogota Philharmonic, the premier orchestra in Columbia. His recording of Le Jongleur de Notre Dame with tenor Roberto Alagna was released by Deutsche Grammophon in August of 2009 and earned Maestro Diemecke his fourth Jean Fontaine Orpheus d'Or Gold Medal, the French equivalent of a Grammy.

Read Maestro Diemecke's complete bio on the LBSO website.
Established in 1935, the Long Beach Symphony Orchestra launched its 77th season in October 2011. Each year the LBSO draws loyal audiences from the greater metro-coastal area to its six Classics concerts in the Terrace Theater, four Orchestra POPS! events in the Long Beach Arena and two Holiday Celebration concerts in the Terrace Theater. The Orchestra works with the Long Beach Unified School District to provide sequential, curriculum-based music education opportunities throughout the year. Through its comprehensive music education programs—including professional ensembles in elementary and middle schools and widely acclaimed Miller Foundation Symphony Concerts for Young People—the LBSO reaches more than 25,000 students a year.