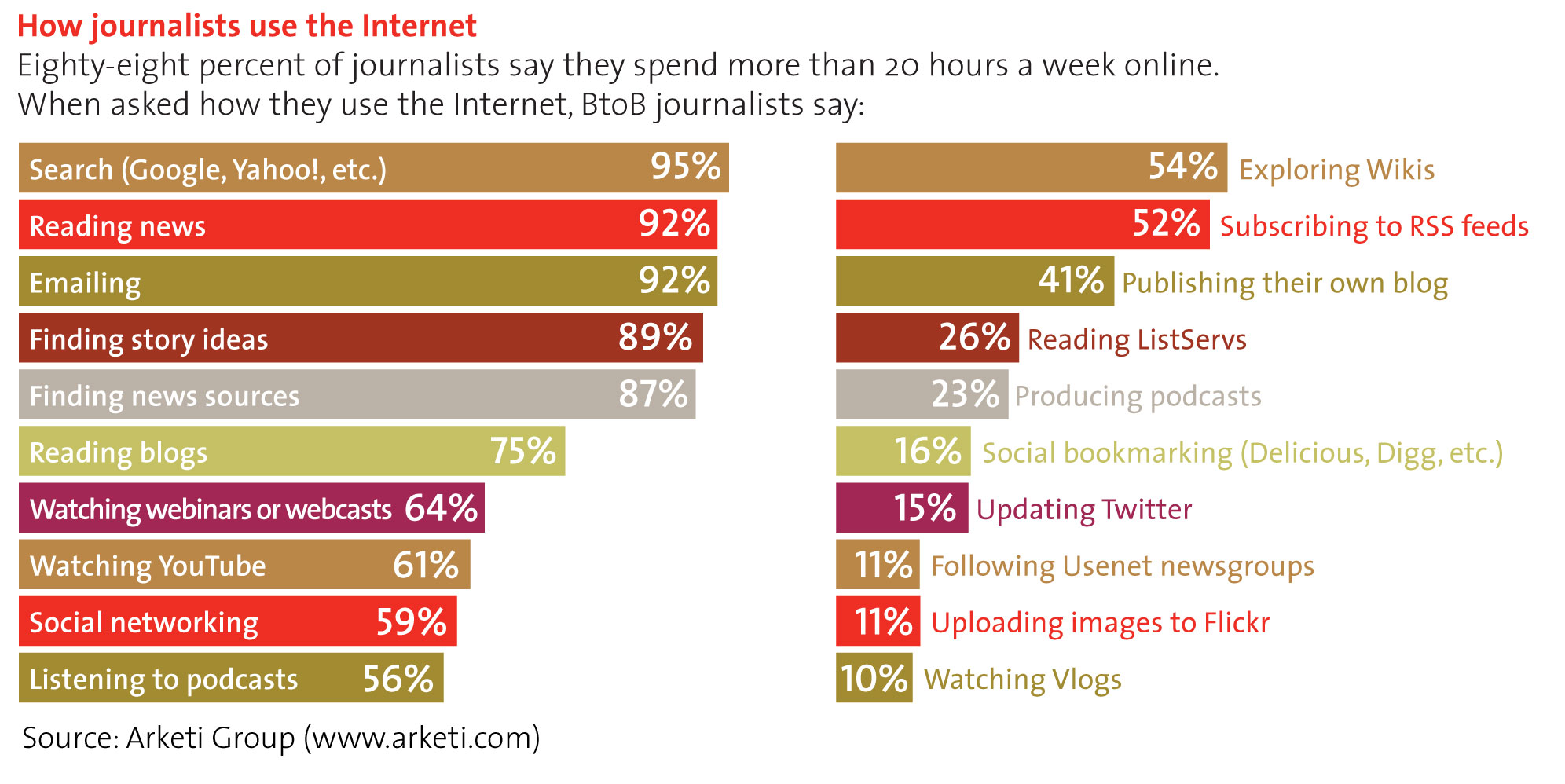 ATLANTA -- Arketi Group (
www.arketi.com
), a high-tech business-to-business public relations and marketing firm, today announced the findings of the 2009 Arketi Web Watch Survey: Inside BtoB Media Usage of Web 2.0. The survey reveals 68 percent of journalists consider the impact of social media on business-to-business (BtoB) reporting to be positive.
The 2009 Arketi Web Watch Survey seeks to understand the use of technology by BtoB journalists covering multiple industries. A free copy of the report findings can be downloaded at
www.arketi.com/surveys
"The findings from this study show that BtoB journalists have clearly embraced new media tools as a way to help them better report on their respective industries," said
Mike Neumeier
, APR, principal of Arketi Group. "While high-profile social media tools like blogs, Facebook, LinkedIn and Twitter are of interest to journalists, our findings indicate that BtoB marketers should not discount tried-and-true Internet technology. Search engine optimization and building media-friendly websites site remain vital to reaching the business media."
Search...The Top Internet Tool Used by Reporters
Nearly all respondents agree with the statements "the Internet had made my job easier" and "the Internet has improved the quality of my job" (97 percent and 87 percent, respectively). In drilling down on Internet usage, 30 percent of journalists say blogs make their job easier, while 32 percent say instant messaging makes their job easier (up from 25 percent and 18 percent, respectively from our 2007 survey).
Eighty-eight percent of journalists say they spend 20 or more hours a week on the Internet, up from 60 percent in 2007. Nearly all (85 percent) say they have a LinkedIn account, 55 percent are on Facebook and 24 percent tweet on Twitter.
When asked how journalists use the Internet:
95 percent say search (Google, Yahoo!, etc.)
92 percent say reading news
92 percent say emailing
89 percent say finding story ideas
87 percent say finding news sources
75 percent say reading blogs
64 percent say watching webinars or webcasts
61 percent say watching YouTube
59 percent say social networks
Overall, most journalists surveyed were not convinced of the usefulness of the "social media press release." Almost half (43 percent) did not know what it is; of those that did, only a quarter of those surveyed found the social media press release very or somewhat useful, and 32 percent said it was not useful.
"This research shows business journalists, just like the average American consumer, are increasingly willing to use social media tools to be more productive," said
Dr. Kaye Sweetser
, APR, assistant professor of public relations at the
University of Georgia's Grady College
. "Equally important, it tells us the media is actively seeking to use these tools. While some tools, like Twitter and the social media press release, are just now taking off, others like blogs, webinars and social sharing sites are widely used by the business media."
Finding Story Ideas
Ninety-two percent of journalists say they get story ideas from news releases, 85 percent turn to industry sources for story ideas, and an equal number (85 percent) tap public relations contacts.
More than three out of four journalists (77 percent) report finding story ideas on newswires, 72 percent from other media outlets, 70 percent from online search, and 70 percent from websites. More than half (55 percent) say blogs spark story ideas. Twelve percent of those surveyed say they have used Twitter to find a source or story idea.
All journalists responding (100 percent) say they prefer to receive news releases via email from companies they know, and 95 percent of business journalists say they prefer to receive news releases via email from companies they don't know but are in industries they cover.
On the media pitching side, 85 percent of journalists find media pitches and story ideas they receive from public relations professionals very or somewhat useful.
Nearly all journalists responding (99 percent) say they view as credible information offered online by national news organizations such as national TV networks, wire services and newspapers, and 97 percent view information reported online by business news organizations like the Wall Street Journal, BusinessWeek and Bloomberg as credible.
Others sources of credible online information according to those journalists surveyed include:
Corporate websites (92 percent)
International organizations (92 percent)
Government agencies (90 percent)
PR professionals (87 percent)
Blogs (53 percent)
Activist websites (37 percent)
Politicians (32 percent)
Chat, message boards (19 percent)
As the lines continue to blur between print and online media, an overwhelming majority of journalists (93 percent) say their online publication is allowed to "scoop" their print edition. When it comes to reporting, only 3 percent of the journalists surveyed write solely for a print publication and nearly a quarter (24 percent) indicate more than 75 percent of their news outlet's website is original content that does not appear in the print publication.
Media's Use of Corporate Websites
Corporate websites make a difference in how business journalists view an organization. Eighty percent of journalists say companies without a website are less credible.
Illustrating the need for companies to maintain up-to-date news and information on their websites, journalists say they turn to an organization's website when reporting on breaking news and are unable to reach a primary source at the organization for critical information (44 percent).
According to journalists, the most useful information on a corporate website is contact information (93 percent), followed by press room/press kits (90 percent), search capabilities (87 percent), company backgrounders (75 percent) and publication-quality graphics or photos (72 percent).
Journalists' Take on Citizen Journalism
The growth of "citizen journalism" has not gone unnoticed by most journalists. The concept involves members of the public playing an active role in the process of collecting, reporting, analyzing and disseminating news and information through user-generated-content tools like blogs, podcasts, and social networks.
More than half (56 percent) of the journalists surveyed rate the impact of citizen journalism as positive. In fact, 42 percent think it is reshaping journalism as we know it, while 40 percent say it adds a needed voice to the marketplace of ideas, and 37 percent say it is here to stay. On the flip side, 17 percent say it is harmful to the fourth estate (the press) and 10 percent call it a fad. One in ten business journalists say they really don't know much about citizen journalism.
Interestingly, when asked to rate the quality of citizen journalism, none of the survey participants called it "excellent," and only eight percent called it "very good." The vast majority (92 percent) rated the quality as "fair" or "poor."
Maybe not surprisingly, all journalists responded that ads on a news website don't enhance the site. In fact, 61 percent say ads interfere with the look-and-feel, making reading the news more difficult.
About the Survey
The 2009 Arketi Web Watch Survey seeks to understand the opinions of BtoB journalists and their use of technology. Seventy-three percent of respondents have been in the field of journalism for 10 or more years, with 44 percent reporting they have been a journalist for more than 20 years. Some of the industries covered by the journalists surveyed include automotive, business and professional services, construction, electronic, engineering, finance/banking, healthcare, human resources, legal and technology. The online survey with 61 journalists responding was conducted during the fall of 2008 and is sponsored by Arketi Group.
About Arketi Group
Arketi Group is a public relations and marketing firm that helps business-to-business technology organizations accelerate growth through intelligent strategy, public relations, messaging, branding and demand generation. Consistently recognized by BtoB magazine as one of the nation''s "Top BtoB Agencies," Arketi's core belief is that marketing generates revenue. Clients benefiting from this approach to BtoB marketing include Cbeyond, Convergys, Flo Healthcare, Sage Software and Xerox Mortgage Services. For more information, call 404-929-0091 ext. 202 or visit
www.arketi.com
.
EDITOR'S NOTE
Camera-ready charts and graphs of key findings from the 2009 Arketi Web Watch Survey: Inside BtoB Media Usage of Web 2.0 are available by contacting Mike Neumeier at Arketi Group at 404-929-0091 ext. 210 or at
mneumeier@arketi.com
.