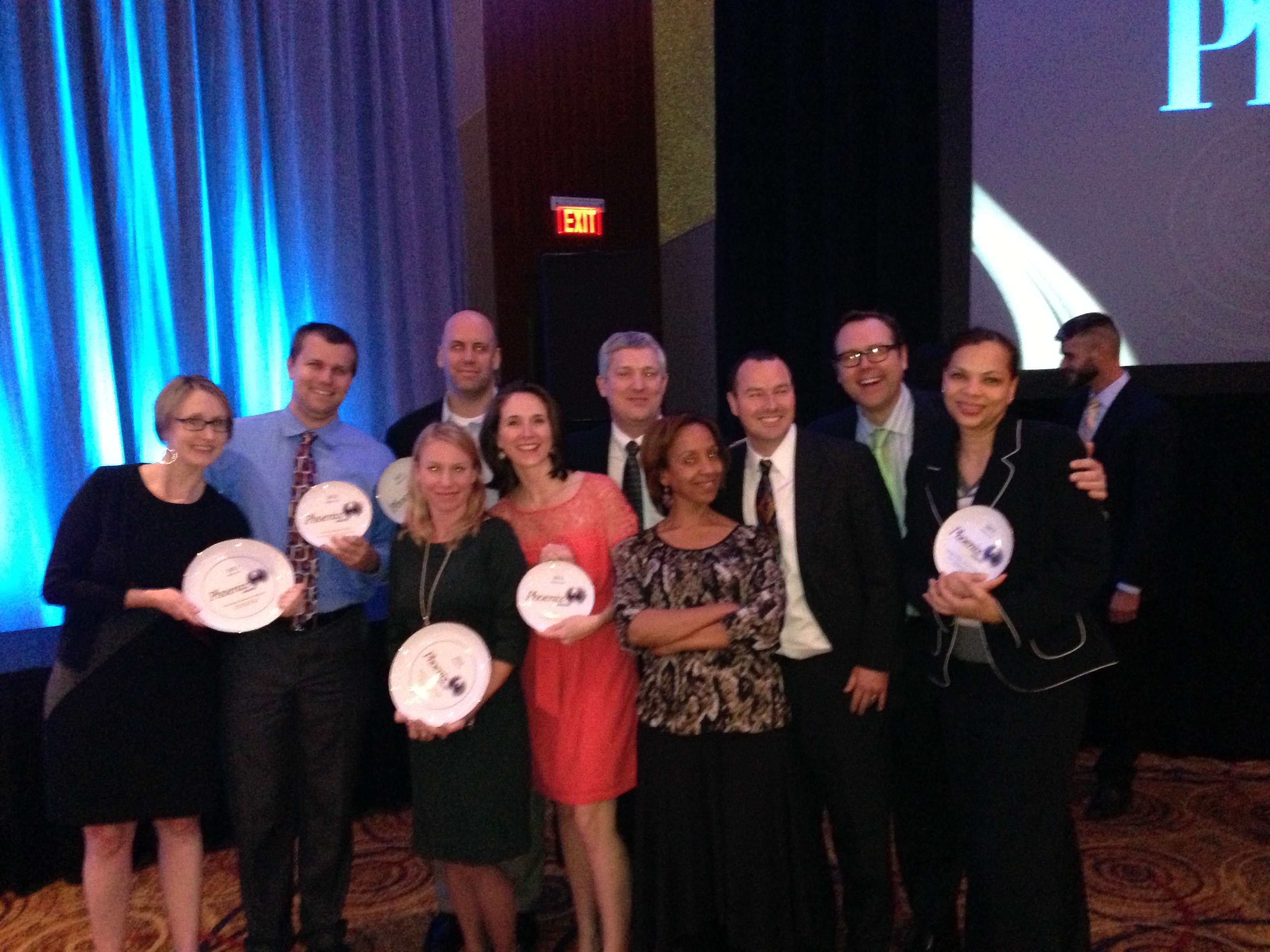 Arketi and clients at 2012 PRSA|GA Phoenix Awards Celebration

Arketi and clients at 2012 PRSA|GA Phoenix Awards Celebration
ATLANTA – Nov. 16, 2012 – Arketi Group, a high-tech business-to-business public relations and
digital marketing agency
, was recognized for its exceptional work in BtoB PR and marketing, earning 13 awards at the 2012 PRSA|GA Phoenix Awards Celebration.
The Phoenix Awards is an awards competition designed by the Georgia Chapter of the Public Relations Society of America (PRSA|GA) to recognize projects and programs that demonstrate excellence in the
public relations
profession in Georgia. With nearly 1,000 members, PRSA|GA is the second largest PRSA chapter in the U.S.
Arketi and its clients received eight Phoenix Awards and five Certificates of Excellence at this year's ceremony.
"As an integrated PR and digital marketing firm, Arketi executes programs that align with our clients' business objectives to drive revenue and deliver results," said Mike Neumeier, APR, principal of Arketi Group. "To be awarded the Phoenix in every business-to-business category we entered is an acknowledgment of our expertise in delivering programs and campaigns that help clients achieve quantifiable results."
Arketi was awarded Phoenix Awards for the following:
Media Relations Business to Business – Other (Technology)
for Arketi's media relations program to drive awareness of
Cbeyond
as a leading provider of cloud and network services to small and mid-sized businesses. The campaign earned 325 media hits, reached nearly 18 million, and generated a cost of per contact of $0.0034 on media placements.
Marketing Business to Business – Other (Technology)
for Arketi's integrated marketing and PR campaign for
Knowlagent
, the leading intraday management solution for the world's 10 million call center agents. The
Productivity Plus
campaign contributed to Knowlagent growing annual contract value by 30 percent and earning 169 media placements reaching 8.5 million readers. Arketi also won the Phoenix for
Integrated Communications – Business to Business
for this campaign.
Blogs
for Arketi's work with Knowlagent to create, launch and maintain the
Productivity Plus
blog, located at
www.knowlagentblog.com
.
Webcasts
for Arketi's work with Knowlagent to develop and execute the
Productivity Plus
webinar series to identify Knowlagent as a thought leader in agent productivity solutions and to generate leads. Knowlagent received nearly 2,500 registrations for the six webinars, which uncovered 64 business opportunities.
Direct Mail/Direct Response
for Arketi's success in driving booth traffic and generating leads at the 2011 Black Hat conference for
Stonesoft
, a provider of integrated network security and business continuity solutions that simplify complex network security environments. The
zombie-themed campaign
resulted in a 20 percent increase in landing page views over 2010.
Writing – Trade/Business News Release
for Arketi's news release for
The Network
, a leading provider of integrated governance, risk and compliance (GRC) products and services to nearly half the Fortune 500. Arketi's release on The Network's Quarterly Corporate Fraud Index garnered 1,030,966 media impressions, delivering a cost-per-contact of $.002.
Marketing Business to Business – Professional and Financial Services
for an intelligent collaboration document solution provider serving the mortgage industry. Arketi launched a marketing campaign that positioned the client as an unparalleled leader in connecting with the most industry participants through flexible technology and a trusted brand.
Arketi earned a Certificate of Excellence Award for the following:
Marketing Business to Business – Professional and Financial Services
for Arketi's integrated PR and marketing campaign for Cbeyond. The campaign to drive awareness of the company as a provider of cloud computing solutions and generate leads reached nearly 18 million and secured 12 industry awards. Arketi also won a Certificate of Excellence for
Integrated Communications – Business to Business
for this campaign.
Web Sites – External
for Arketi's redesign of Knowlagent's website, which has generated nearly 300 new leads.
Research/Evaluation
for Arketi's work with Knowlagent to develop an editorial survey to identify the current state of contact center agent performance and productivity. Knowlagent netted 311 prospects as a result from the survey.
Social Media
for Arketi's Technology Tweet Tournament with
The Technology Association of Georgia (TAG)
, the state's leading association dedicated to the promotion and economic advancement of Georgia's technology industry. The Tournament drove more than 2,500 tweets and retweets, sparked more than 2,000 unique video views, and landed 900 mentions of the hashtag #whereGAleads.
About Arketi Group
Arketi Group
is a public relations (PR) and digital marketing firm that helps business-to-business (BtoB) technology organizations accelerate growth through intelligent strategy, public relations, messaging, branding and demand generation. Consistently recognized by
BtoB
magazine as one of the nation's "Top BtoB Agencies," Arketi helps its clients use marketing to generate revenue. Companies benefiting from this approach to BtoB marketing include Cbeyond, CorFire, Ebix, Semprius, Stonesoft and Xerox. For more information, call 404-929-0091 ext. 202 or visit
www.arketi.com
.