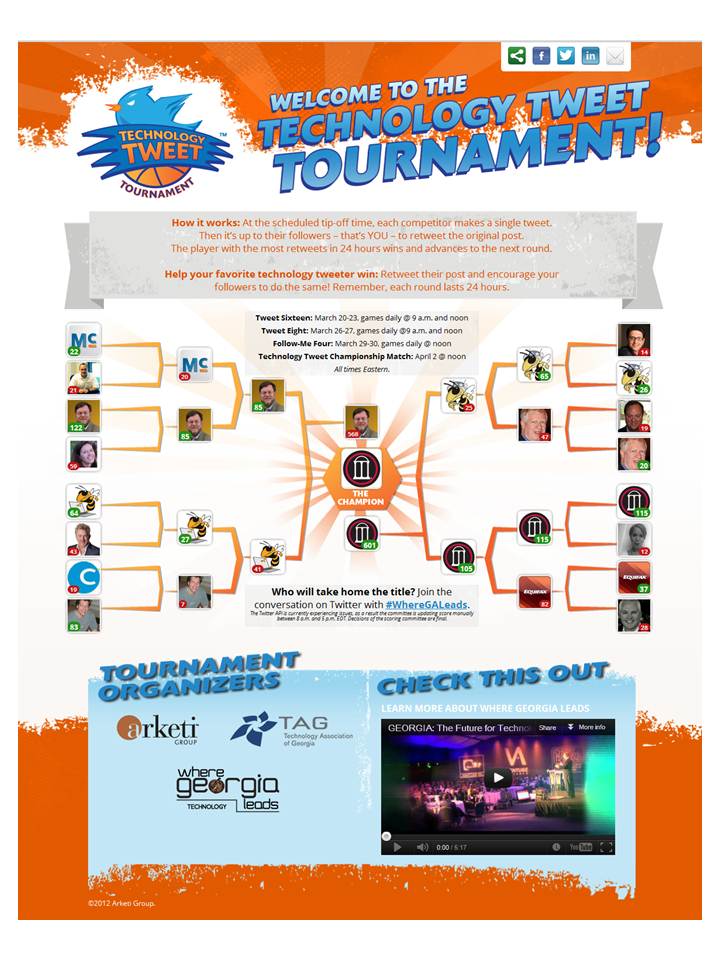 ATLANTA – Nov. 29, 2012 – Arketi Group, a high-tech business-to-business public relations and
digital marketing agency
, and The Technology Association of Georgia (TAG) were the recipient of a 2012 SNCR Award of Excellence in the Social Media Marketing category.
Arketi partnered with TAG, the state's leading association dedicated to the promotion and economic advancement of Georgia's technology industry, and created the Technology Tweet Tournament – a
social media campaign
that positioned 16 of Georgia's top technology tweeters in a bracket-style competition to raise awareness of Georgia's technology community.
The two-week Tournament drove more than 2,500 tweets and retweets, sparked more than 2,000 unique video views, landed 900 mentions of #whereGAleads, and earned four of the top 20 trending Twitter topics in Atlanta for most of April 2 and 3.
The Society for New Communications Research (SNCR) Excellence in New Communications Awards program honors individuals and organizations that are pioneering the use of social media and Internet communications technologies. This is the second time Arketi has earned a National SNCR Award of Excellence for its social media work.
"The
Technology Tweet Tournament
was an exciting way to engage Georgia's technology community and support TAG's efforts to get Georgia recognized as one of the top five states for technology by 2015," said Tino Mantella, president and CEO of TAG. "The tournament's 16 competitors represented some of the best minds and companies in Georgia's technology community, and we're thrilled this creative social media campaign created by Arketi generated true community engagement and support for our thriving technology community."
Award nominations were submitted as case studies, and reviewed by a panel of SNCR Fellows. In its seven-year history, SNCR has honored nearly 200 organizations and individuals through this prestigious awards program and all the winning case studies will be published on
http://sncr.org
.
"We are honored to recognize Arketi Group through this awards program," commented SNCR Senior Fellow Paul Gillin, chair of the SNCR Excellence Awards committee.
"The Technology Tweet Tournament increased engagement with and drove awareness of Georgia's technology community, continuing the momentum behind TAG's
'Where Georgia Leads' campaign
," said Mike Neumeier, APR, principal at Arketi Group. "It was a highly creative and ambitious effort that TAG and Arketi worked together to formulate, and to receive national recognition for this local campaign supports our core belief that well-executed marketing generates real business results."
About the Society for New Communications Research
The Society for New Communications Research is a global nonprofit 501(c)(3) research and education foundation and think tank focused on the advanced study of the latest developments in new media and communications, and their effect on traditional media and business models, communications, culture and society. For more information, visit
http://sncr.org
.
About Arketi Group
Arketi Group
is a public relations (PR) and digital marketing firm that helps business-to-business (BtoB) technology organizations accelerate growth through intelligent strategy, public relations, messaging, branding and demand generation. Consistently recognized by BtoB magazine as one of the nation's "Top BtoB Agencies," Arketi helps its clients use marketing to generate revenue. Companies benefiting from this approach to BtoB marketing include Cbeyond, CorFire, Real Capital Analytics, Semprius, Stonesoft and Xerox. For more information, call 404-929-0091 ext. 202 or visit
www.arketi.com
.
About The Technology Association of Georgia (TAG)
The Technology Association of Georgia (TAG) is the leading technology industry association in the state, serving more than 15,000 members and hosting over 200 events each year. TAG serves as an umbrella organization for 30 industry societies, each of which provides rich content for TAG constituents. TAG's mission is to educate, promote, influence and unite Georgia's technology community to foster an innovative and connected marketplace that stimulates and enhances a tech-based economy. The association provides members with access to networking and educational programs; recognizes and promotes Georgia's technology leaders and companies; and advocates for legislative action that enhances the state's economic climate for technology. Additionally, the TAG Education Collaborative (TAG's charitable arm) focuses on helping science, technology, engineering and math (STEM) education initiatives thrive. For more information visit the TAG website at
www.tagonline.org
or TAG's community website at
www.TAGthink.com
. To learn about the TAG-Ed Collaborative visit
http://www.tagedonline.org/
.