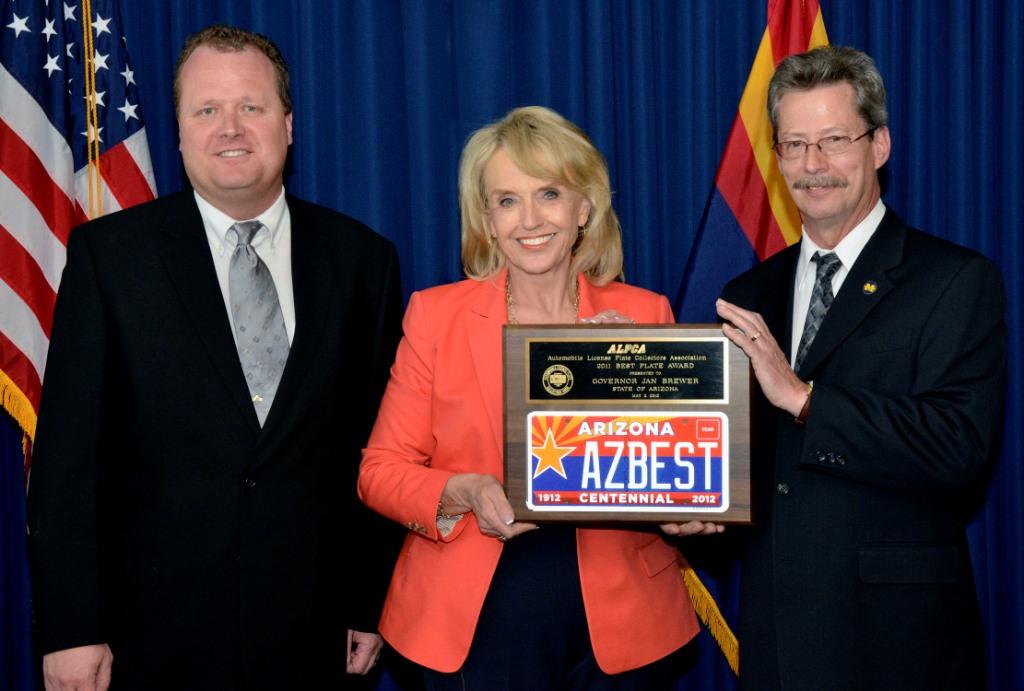 Pictured Left to Right: ALPCA Arizona Chapter president Clark Wothe; Governor Jan Brewer; and ALPCA President, Greg Gibson.

Pictured Left to Right: ALPCA Arizona Chapter president Clark Wothe; Governor Jan Brewer; and ALPCA President, Greg Gibson.
PHOENIX – Governor Jan Brewer, the Arizona Centennial Commission, and Arizona Department of Transportation's Motor Vehicle Division were presented with the Best License Plate in the United States Award for its Centennial License Plate at the State Capitol on Wednesday, May 2.
The prestigious award was presented by the Automobile License Plate Collectors Association (ALPCA), which last month announced Arizona's Centennial plate as best plate in the nation for 2011. More than five thousand Arizona motorists have bought the popular specialty license plate since its introduction by the Motor Vehicle Division last fall. The popular plate envisioned by the Arizona Centennial Commission was designed by P.S. Studios in Phoenix.
ALPCA president Greg Gibson traveled to Arizona to present the award along with Arizona Chapter president Clark Wothe. Gibson, a collector, showed Governor Brewer a 100-year-old license plate issued in 1912 by the city of Phoenix, noting that at the time cities not the state issued license plates. "It wasn't until 1914 that the state began issuing license plates," noted Wothe. "Another interesting fact is Arizona has the distinction of being the first state in the nation to add a graphic symbol to its plate – a steer head – in 1917."
"To receive this highly-celebrated, nationally-recognized award on the heels of our 100th birthday is a true honor," said Governor Brewer. "Arizona's Centennial year marks an important milestone in our State's history and serves as a great source of pride for our citizens. I am thrilled that, with the wildly successful launch of our emblematic Centennial plate, people across the state and nation will feel that pride."
Representatives from ALPCA presented the award to Governor Brewer, MVD Director Stacey Stanton, Arizona Centennial Commission Co-Chair Win Holden and Director Karen Churchard.
Arizona motorists have the option of buying this special commemorative plate at www.ServiceArizona.com for $25; of which $17 benefits the Arizona Centennial 2012 Foundation a 501 (c) 3 non-profit organization.
ALPCA has sponsored the annual Best License Plate Award program since 1970. Pennsylvania won the first award in 1971. Finishing as runner-up and third place to Arizona were new general issue plates from Nebraska and Louisiana, respectively. This year marks the 41st anniversary of the award and the second award for Arizona after winning in 1996 for its general issue plate.
Founded in 1954, ALPCA is the world's oldest and largest non-profit organization devoted to researching, collecting and promoting license plates.
CONTACT:
Gus Oliver/918-671-4653/ALPCA Best Plate Award Coordinator
Karen Churchard/602-364-4158/Arizona Centennial Commission Direcotr/kchurchard@AZ100Years.org