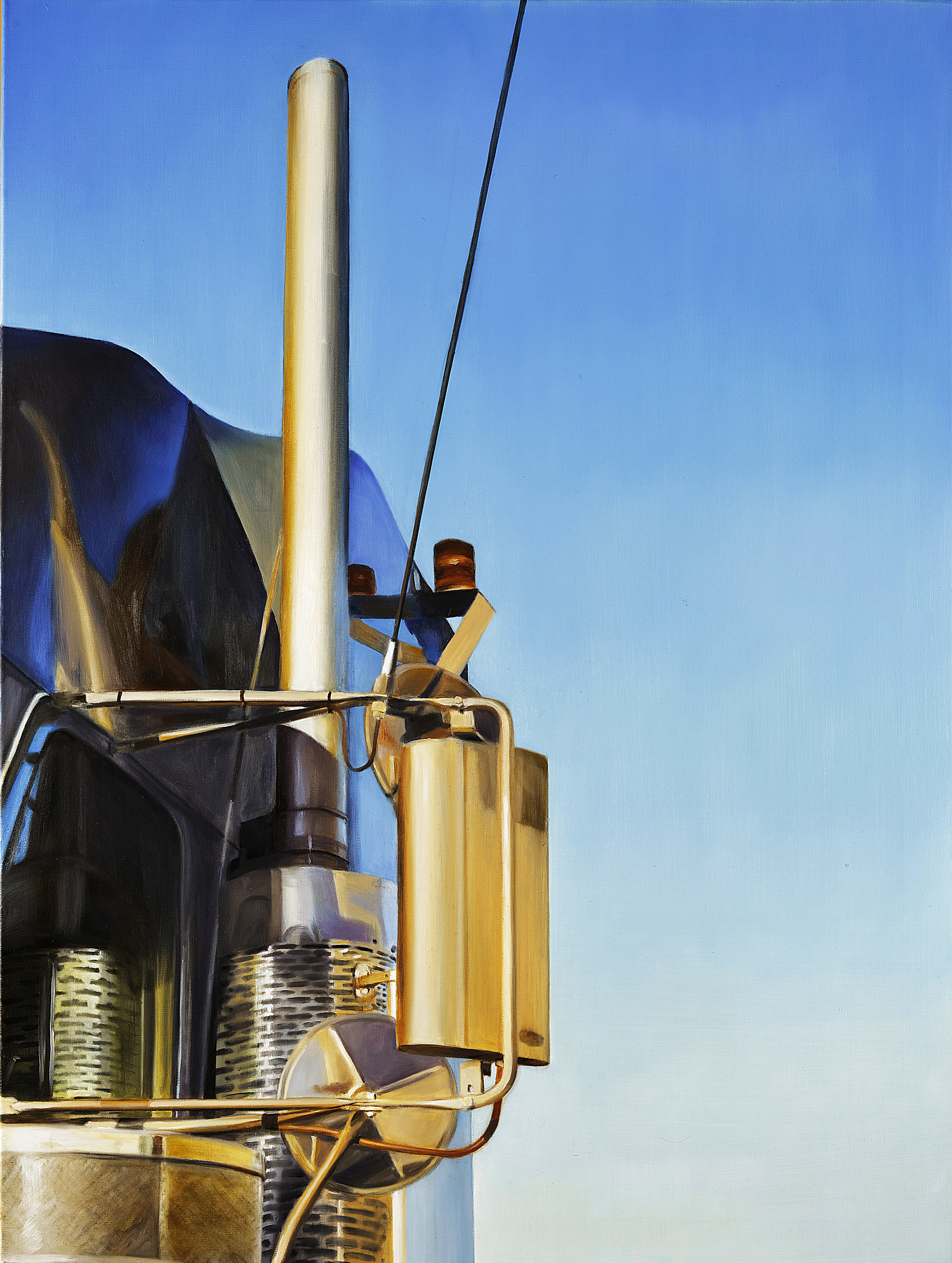 NEW YORK, NY - sTRUCKtures is an exhibition of carefully painted, colorful geometries -- revealing the sensibilities of a sophisticated graphic designer -- which on closer examination, portray an often-overlooked subject matter as fine art. Soaring towers of exhaust pipes penetrate blue skies. highways divide canvases into geometric arrangements. birds-eye views become patterns of silhouettes capturing trucks in action. and bold, in-your-face grille assemblies startle viewers with their power.

But beyond just painting pictures of objects, artist Allan Gorman takes on a dialogue surrounding contemporary realism in an exploration of the beauty found within industrial objects and structures - in this collection, big rigs. Gorman's quest is part of a long-standing personal attraction to man-made things and an attempt to alter the viewer's perception of these looming, often banal objects. He has at once a romantic or nostalgic approach in the school of Hopper and Sheeler, with a technique colored by a concentrated execution owing something to photo realists, though by no means strictly emulating them.

Gorman is not just interested in light and shadow; his exploration is an attempt to concentrate on the subject's physical presence as an object of beauty and its ability to evoke an emotional response, which these new works undoubtedly do.

"Beyond just pictures of objects, my attempt is to create a visual and familiar dialogue that will help the viewer escape to another place and time," says the artist. "I'm a communicator at heart, and my purpose is to share the beauty found in things most people take for granted."

Gorman's upcoming exhibitions include a solo exhibit at the Galleries at Sussex College, NJ and a two-person event at The Perkins Art Center, NJ. Selected recent group shows include: The 2010 NJ Arts Annual at the State Museum; "Driving without Destination" at Seton Hall University, NJ; National Juried Exhibition at Monmouth Museum, NJ; and Verge Art Fair in Brooklyn, New York.

Please come join us at the Phoenix Gallery for a reception on May 26, 2011 from 6-9 PM to meet the artist. Regular gallery hours are Tuesday through Saturday, 11:30 - 6:00 PM.

For more information about the exhibit, pleas visit the artist's website - http://www.allangorman.com. For high resolution images please contact: LAURA VAN BLOEM at lvanbloem@brandspa.net or call 973 509 2728.